Going above and beyond
It's been a while since I had been on a roadtrip. In my defence, it wasn't for a lack of interest or because I was procrastinating, no sir. It was simply because we are running out of major attractions in our driving vicinity. I already drove upto Glacier National park on my east, to Denver in south-east, and all the way to LA in the south. Going anything further in a week would make me feel more like a trucker than a traveller. What I needed was an extraordinary destination worthy of my limited paid time offs. So I did the same thing people in horror movies have been foolishly doing since a long time whenever they are in a creepy room of a haunted house; I Looked Up! While this usually ends their story, it began mine. It was time to go north! It was time to visit ALASKA. The ideas for hikes, scenice spots, camping etc. came rushing like millions of miners rushing towards the greatest gold rush in human history.
Out of a great co-incidence, for the first time in my travelling history time was my ally. As it turns out, Alaska is way up north with half of the state above the Arctic Circle and we were visiting during summer solstice. Which means that it never gets dark here during this period. For instance, I saw people starting an 11 mile hike at 8 pm.
While time was my ally, the tourism industry sure wasn't. Everything in Alaska is expensive; from flights to hotels, from food to rental cars. But I am a software engineer by trade, which means I am good at one thing and one thing only. I can google the shit out of things. I started by booking my flights way early when the prices were comprehensible. I booked my rental car from Turo instead of the usual players like Hertz, Enterprise etc. I booked hostel accomodation when hotel prices were absurd. Instead of buying camping gear, I convinced sellers on facebook marketplace to rent me stuff for a week by making an offer they can't refuse.
Never go to Alaska as a young man because you'll never be satisfied with any other place as long as you live - John Muir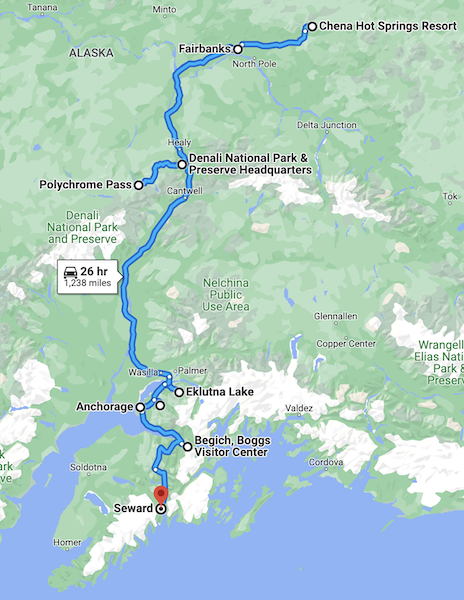 Points of Interest
Broadly speaking, these were the locations which we covered in our trip in this order.
Anchorage

Portage Lake Area

Fairbanks

Chena

Denali National Park

Seward

Kenai Fjords National Park
Day 1: A Tale of Two Lakes
It's a four hour flight from Seattle to Anchorage, but we gained an hour due to timezone difference. Alaska is captivating before you even land on the runway. Countless mountains and glaciers covered in white snowy blanket were visible from the airplane window . The airport was quite and cozy passing on a relaxing vibe to the travellers starting their long journey on a vast rugged terrain and unforseen challenges waiting for them outside. There is a life size stuffed bear at the airport standing at an impressive 10 feet tall. I hoped the pepper bear spray was as effective as it says on the bottle, or else I would be the dinner who just brought it's own pepper seasoning to the party.
Our first task was to collect the rental car. We got lucky and the guy threw in the cooler and camping chairs for free. Next task was to get the bear spray; the problem is that we couldn't brought our own as its not allowed in flights (even in check-in luggage), plus bear sprays are expensive (around $50) considering it's rarely ever used. So, there is this cool place called Salmon Berry Tours in downtown where they loan them out for free (if available) as people donate them while leaving. We got bug spray as well and boy did that came in handy while camping. Alaskan natives jokingly refer to mosquitoes as state birds.
Now that the bear was taken care of, it was time to take care of the beer. On a 10 minute drive from downtown, Walmart supercenter is a good place to buy all your groceries and supplies for the long road ahead. Once we stuffed our cooler with ice and beer, our backseat and trunk with snacks and luggage, our eyes sparkled and a shiver of excitement ran down our spine as it was then that we realized; Our roadtrip has finally started. 🚗 🚗 🚗
The first attraction was Eagle Symphony lakes, an 11 mile trail. It's only a 45 minute drive from Anchorage to the trailhead in Chugach State Park. The trail traverses a gorgeous mountain valley floor with lush green mountains on both sides with patches of snow. You will keep travelling along the eagle river throughout the trail until the end of the valley. If you loved playing in mud as a kid, you will have a great time with all the snow melt creating a slush. The last half mile are boulders you have to cross with unstable rocks, so definitely mind your steps if you are here. There is no fixed path either in this section so we had to keep an eye out for the cairns to guide us. Finally, we saw an abandoned hut, almost wore out, marking the end of the trail. You will see two lakes right next to each other, but of different colors. The left one is Eagle lake with a light sky blue color with a tint of green while Symphony lake on the right was deep blue. The short explanation is that they are formed by two different glaciers each having their own composition of rock salts and sediments giving the lakes their distinctive colors. This is a great spot if you are into backcountry camping. I saw many people camping in the ridge between the two lakes.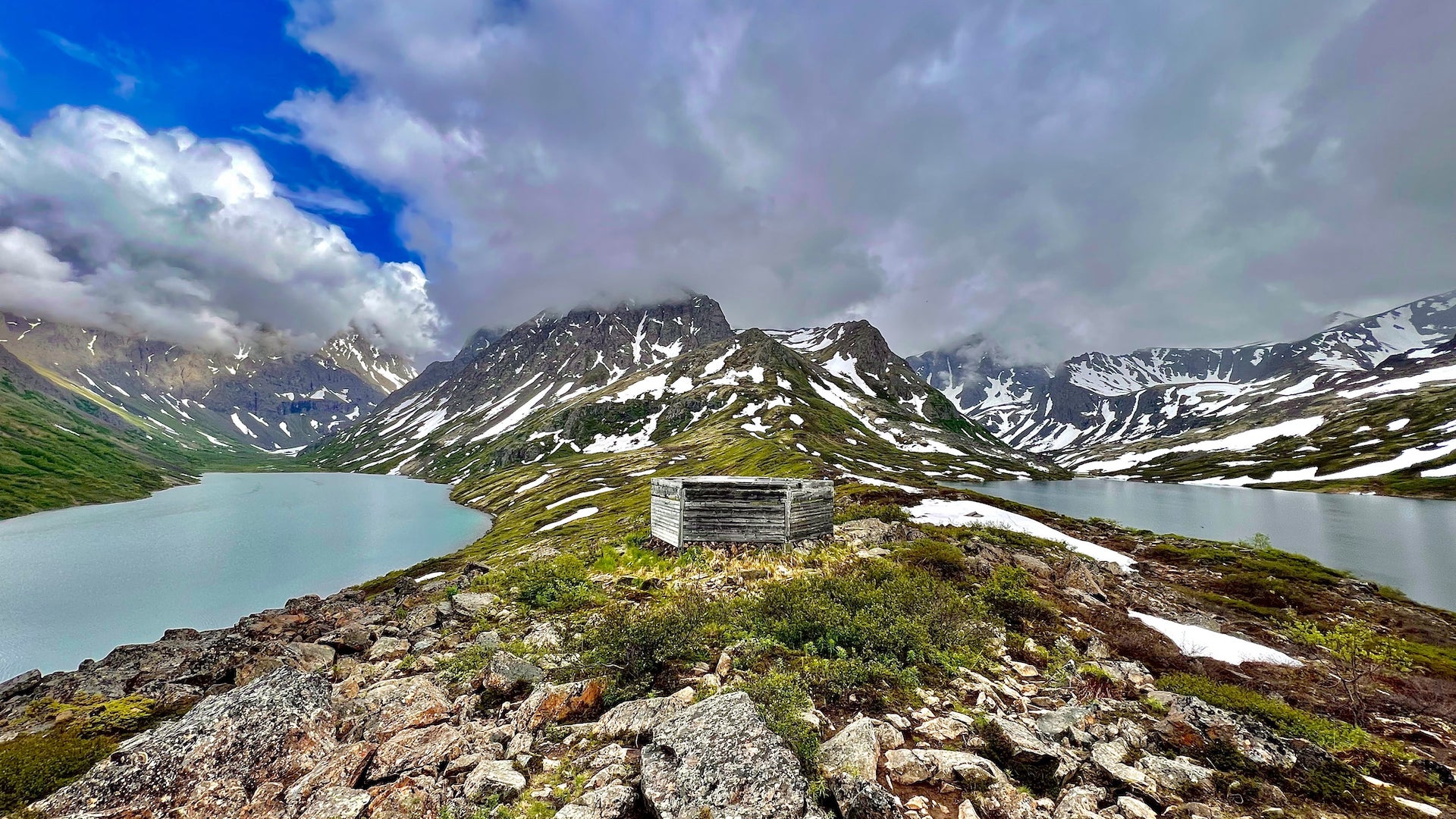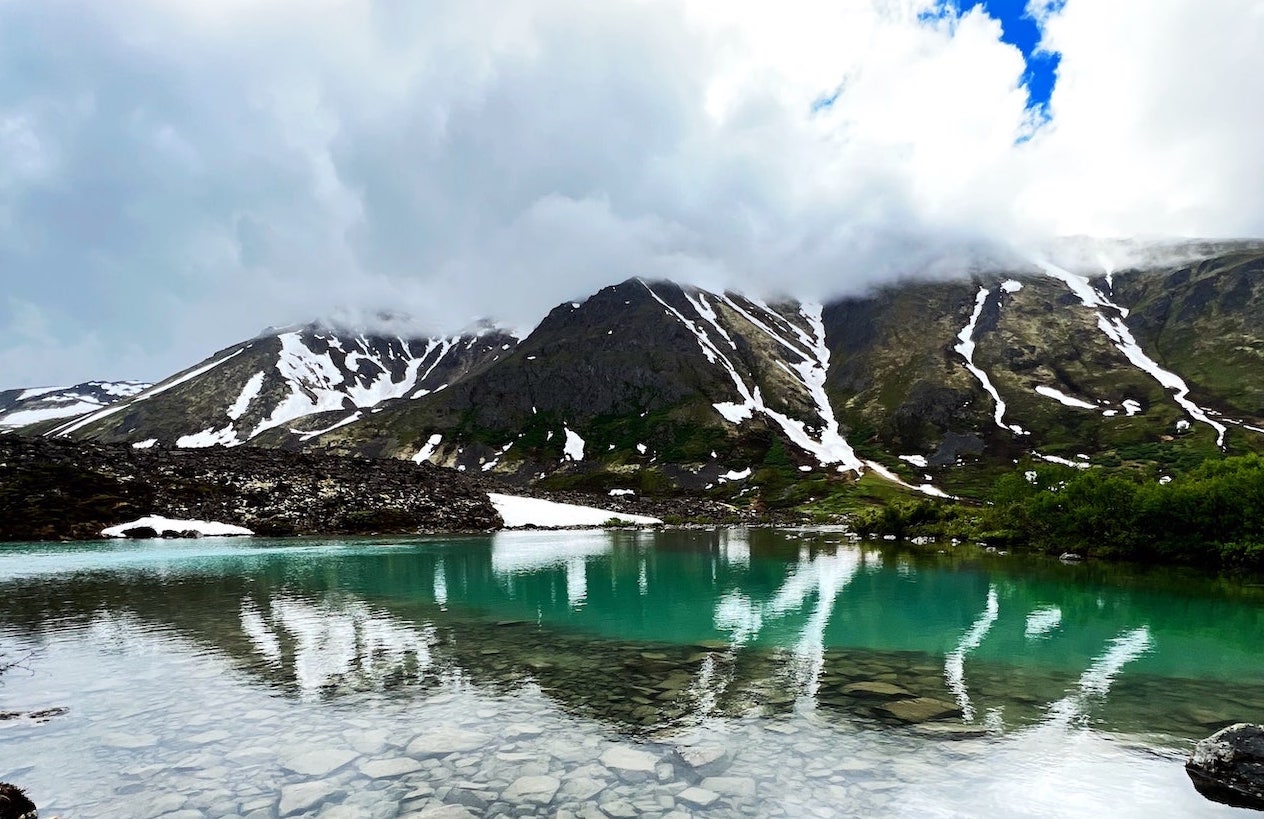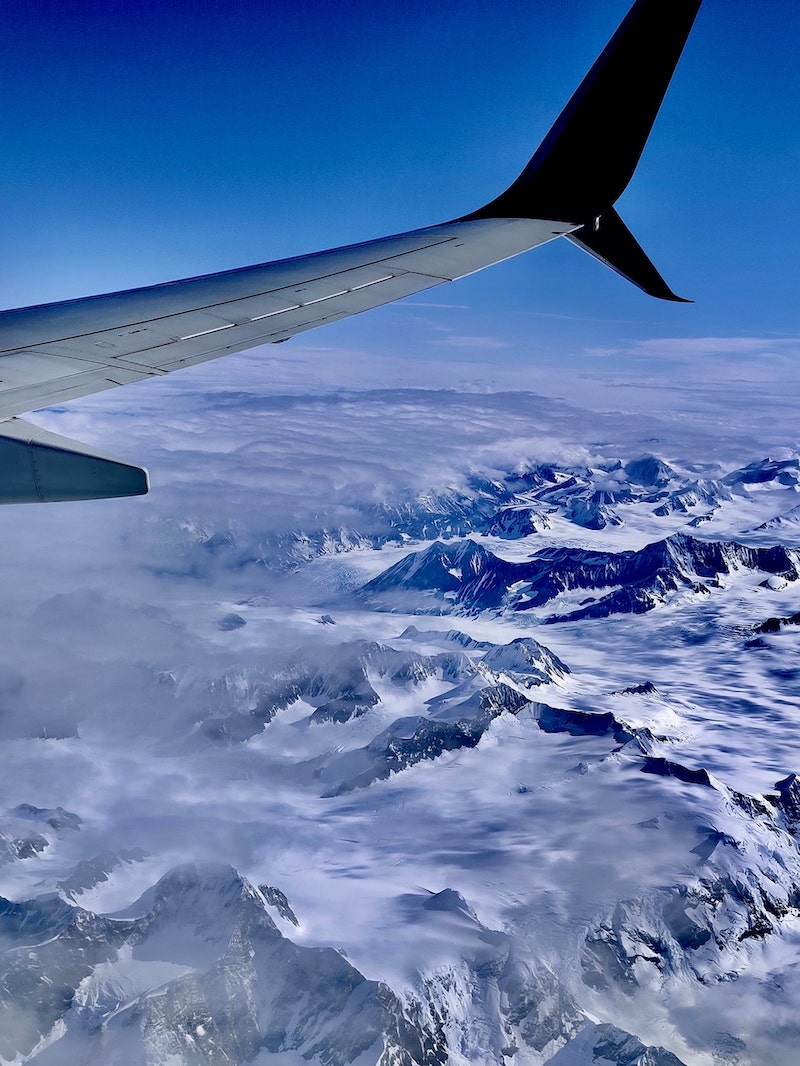 Day 2: Glaciers in the neighbourhood
The next morning, after getting some coffee we started driving towards the south of Anchorage to Portage Lake. It's an amazing scenic drive, with ocean bay on your right side enclosed by high mountain peaks. We made a stop at Beluga Point which is a great spot to see the panoramic views and take some photos. Beluga whales do frequent this spot during certain seasons giving this spot it's name. Shortly thereafter, we arrived at the shores of ravishing portage lake with portage glacier in front of us feeding the lake via elegant waterfalls and creeks. The water sky blue and was so cold that there were tiny pieces of glacial ice floating in the water. We ended up spending a lot of time sitting here and soaking in the unparalleled beauty of this lake, watching the glaciers, kayakers and just breathing the cool comforting mountain air.
A couple of minutes walk from here, is the Begich, Boggs Visitor Center near the lake outlet. It's full of interesting information about glaciers, alaskan natives, scientific studies, wildlife etc. There is a simulated ice cave, binoculars to see the glaciers, a movie theater and you can even view live ice worms (if you thought glacial water is pure, think again) or insect larvae life-cycle under a microscope.
Next on the itinerary was Byron Glacier trail, our first chance to see a glacier up close. It's a popular and short (2 mile roundtrip) trail just a 10 minute drive from the visitor center. The glacier is majestic to say the least running up all the way up in the mountains. There are ice caves you can explore in the area but we decided against it due to warnings posted about hazardous conditions made by melting ice which means large ice pieces can fall off anytime or the caves can collapse upon you. It was also because I showed up wearing my canvas shoes as my hiking boots were drenched in mud from last day's hike. Before heading home, we took one last stop at Portage Lake again, well because it's that good!
Today was also the day I had the best chicken wings of my life. There's this place called Sami's City Diner we visited yesterday which turned out to be quite good so we decided to visit again. Only this time one of us ordered chicken wings and it was phenomenal. I was not a big fan of buffalo sauce but now I am. Of all the three evenings we spent at Anchorage, we ended up eating here.
You'll notice that we kept this day less intensive than the preceding or following day, something we have learned with time. We always try and alternate our intensive days with relaxing ones to allow us to have a range of travelling experiences, diversify and to give us a chance to truly appreciate the moment.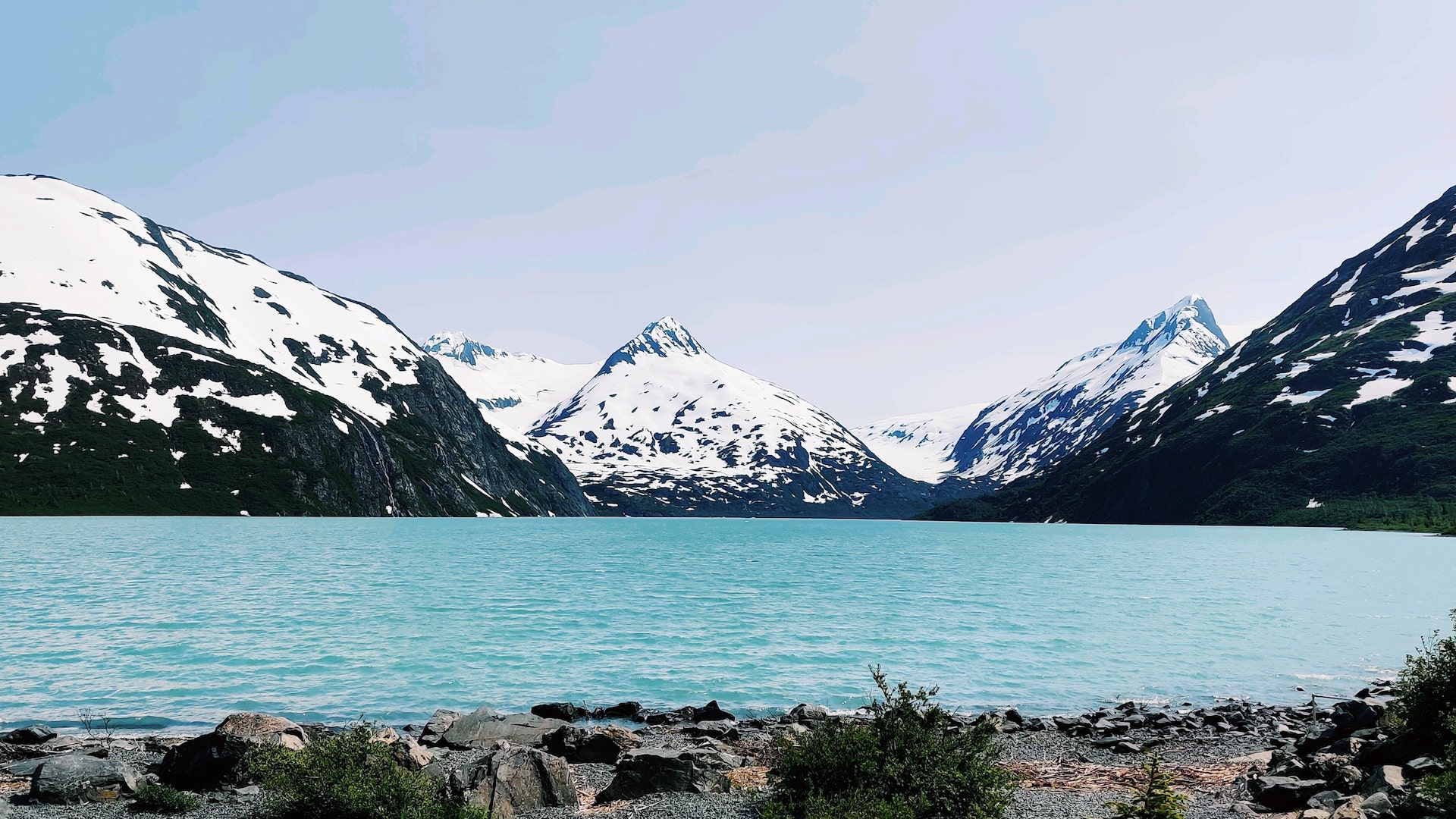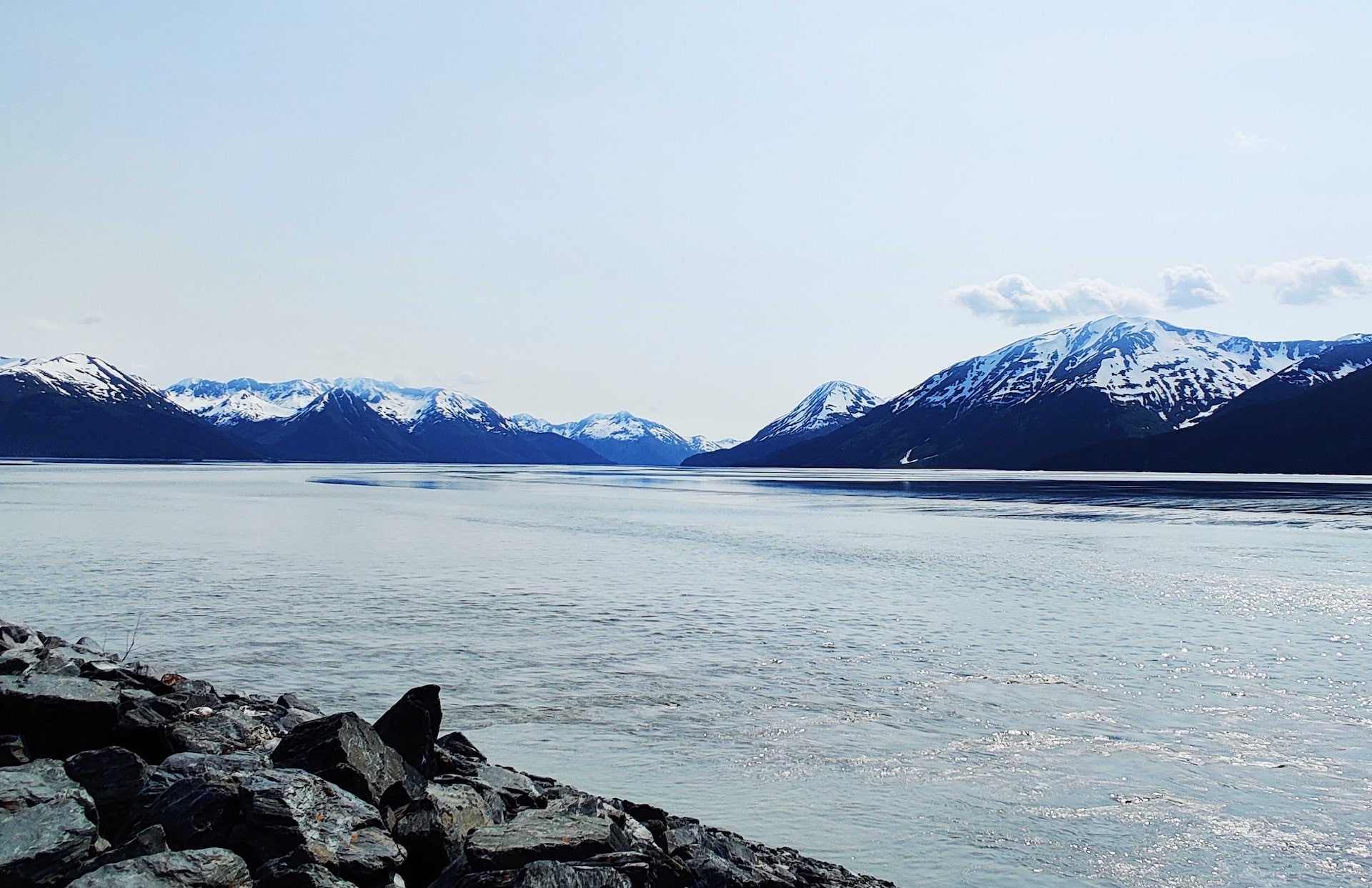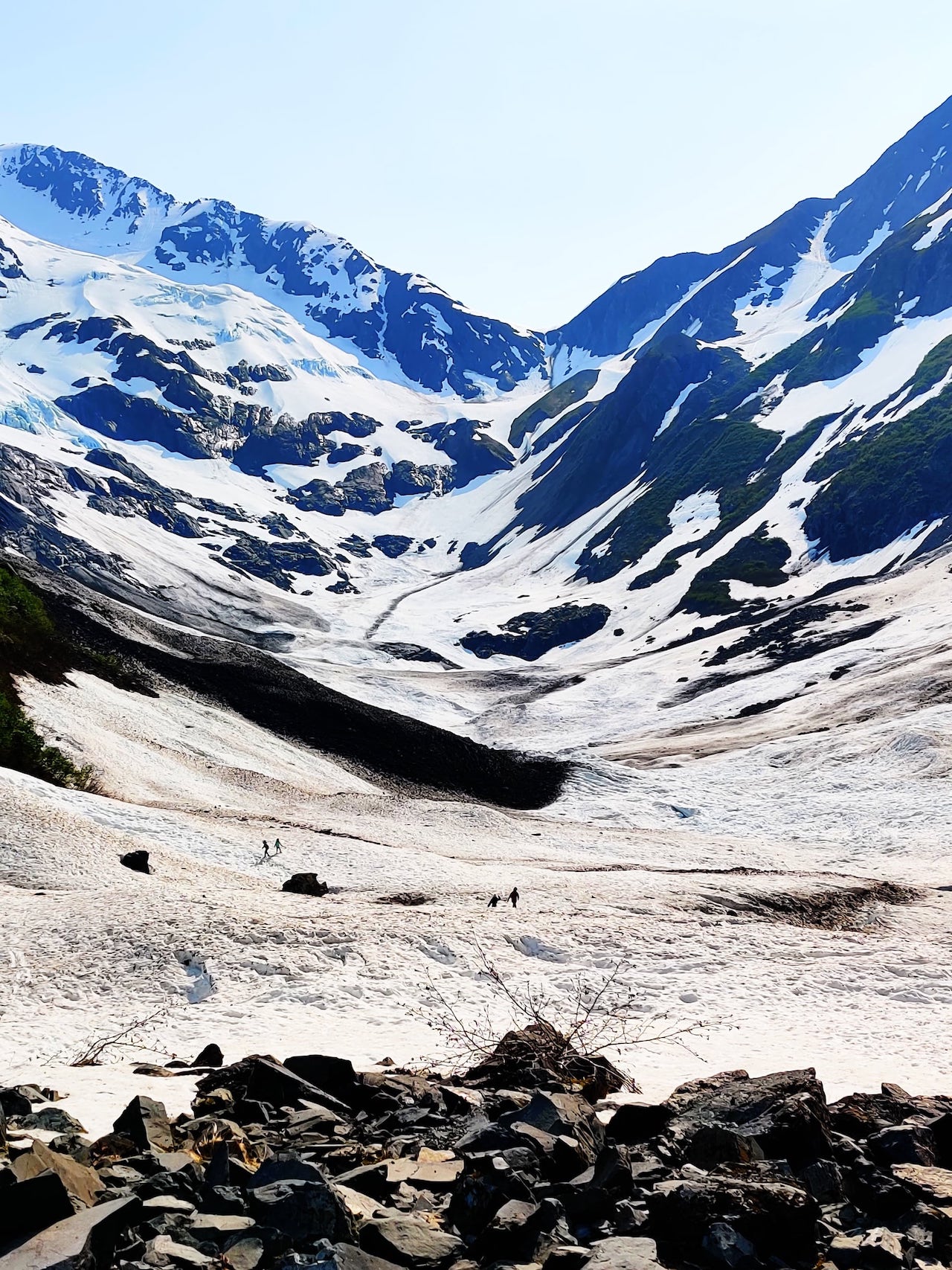 Day 3: Land of the Midnight Sun
It was time we leave Anchorage and venture out further into the heart of Alaska. We were going to Fairbanks. It was a 7 hour drive but we had a great detour in our list. On the way we would go into Chugach State Park one last time, our destination being Eklutna Lake. This is not a popular tourist spot per se but we were so glad we came here. Our research was now paying off. The lake was calm with a torquise blue color with surrounding mountains on three sides. This would have been a great SUPing spot if we had ours' with us. It has a flat beach, picnic benches and even wooden tipis which made it a great spot for family picnics or just having a nice and quiet day. Like all places we visited or are about to visit, there are high chances of wildlife sightings everywhere in Alaska. A girl we were earlier speaking to in the parking lot told us she saw a bear and a moose (who chased her!) some 400 ft from where we were.
Finally, it was time for the long drive ahead to Fairbanks, which is almost at the Arctic Circle. The highway is a two way single lane road all the way. You will see mountains, glaciers, rivers, forest, lakes for hours at a time without passing a town. We knew that already so we made sure to refuel before heading out. Oh and make sure to stop at Denali South viewpoint and Denali North viewpoint (to have a look at the Denali Mountain). Denali is so tall (it's the tallest mountain in North America) that it literally conjures up its own weather and clouds. According to rangers, the peak is visible only 30% of the time. For this reason, we couldn't see it from Denali National Park, hence we stopped at these points while returning. Increase your chances by multiple visits at these points.
We crossed the Denali NP entrance 2 hours before reaching Fairbanks. A small town called Healy was a good spot to take a break. We refuelled, ate ice candy and continued on our way. We were craving Thai food so we tried this place called Bahn Thai which turned out to be quite good. Although, ordering thai level spicy Pad kee Mao turned out to be a mistake but we managed to finish it up somehow (we were trained by a professional in our grad days). Before retiring to our quite little cabin (highly recommended) on the outskirts of the town, we took a leisurely stroll at Fairbanks downtown waterfront along the Chena river with the sun still having our back. Life's good!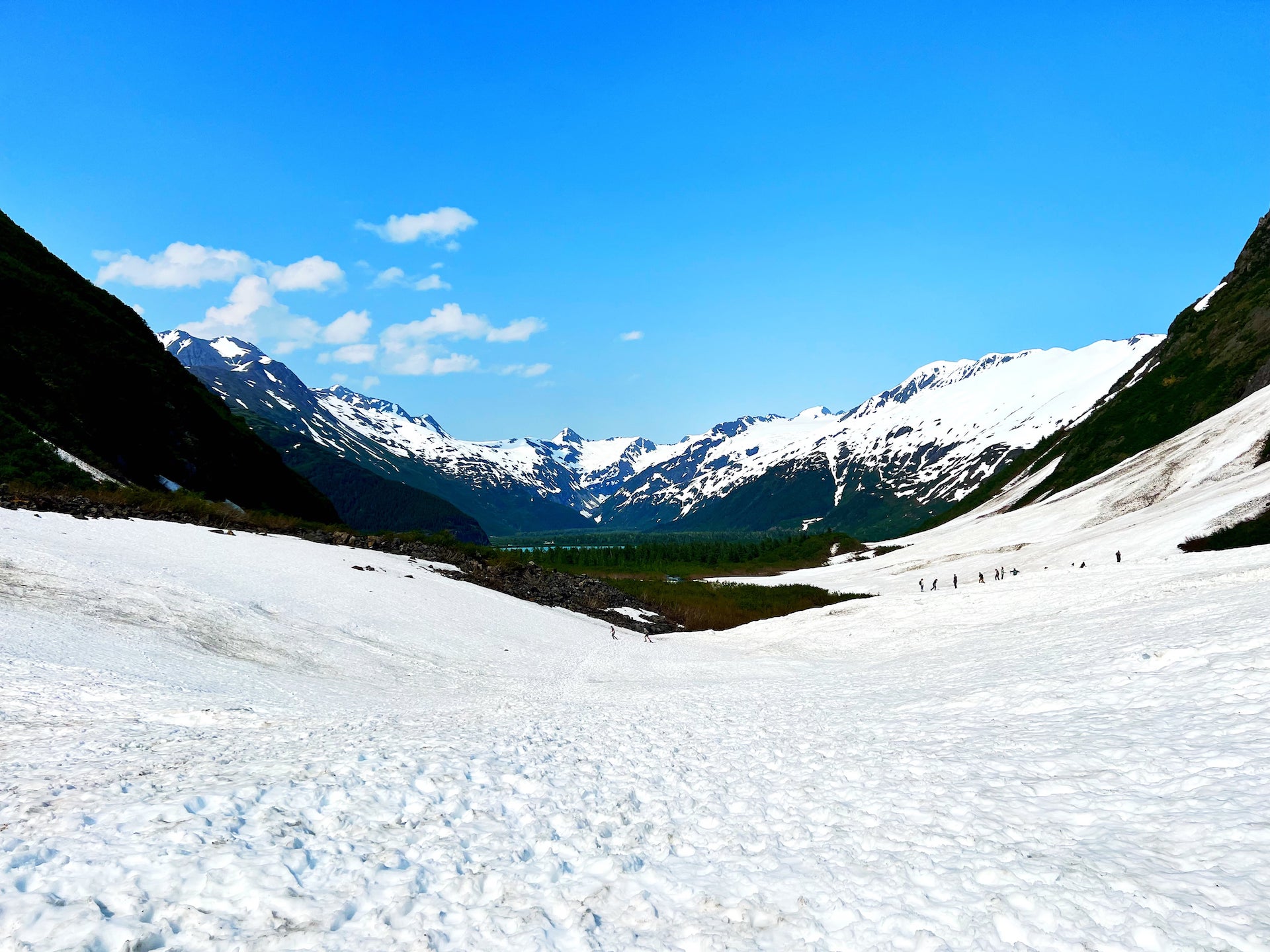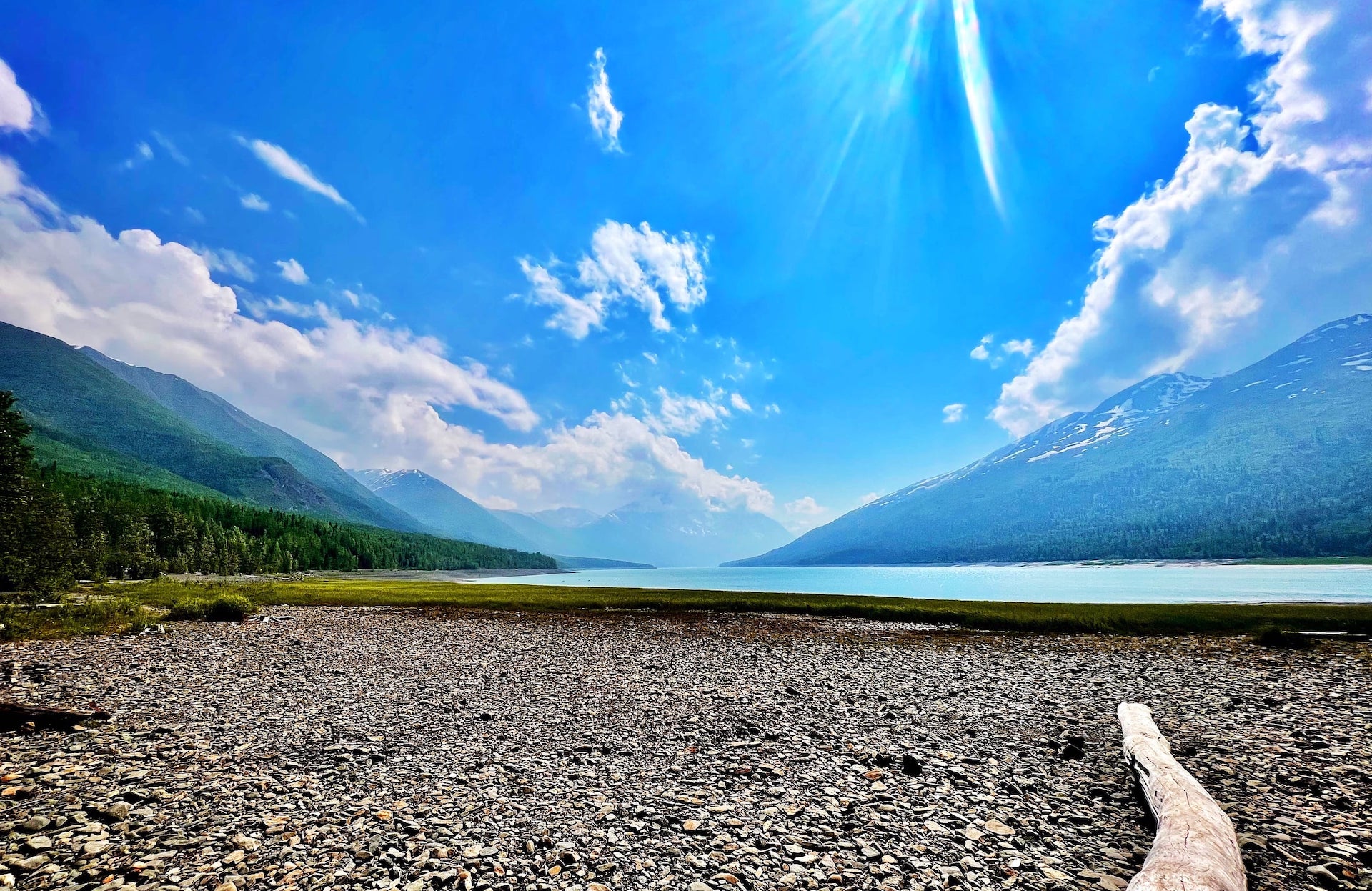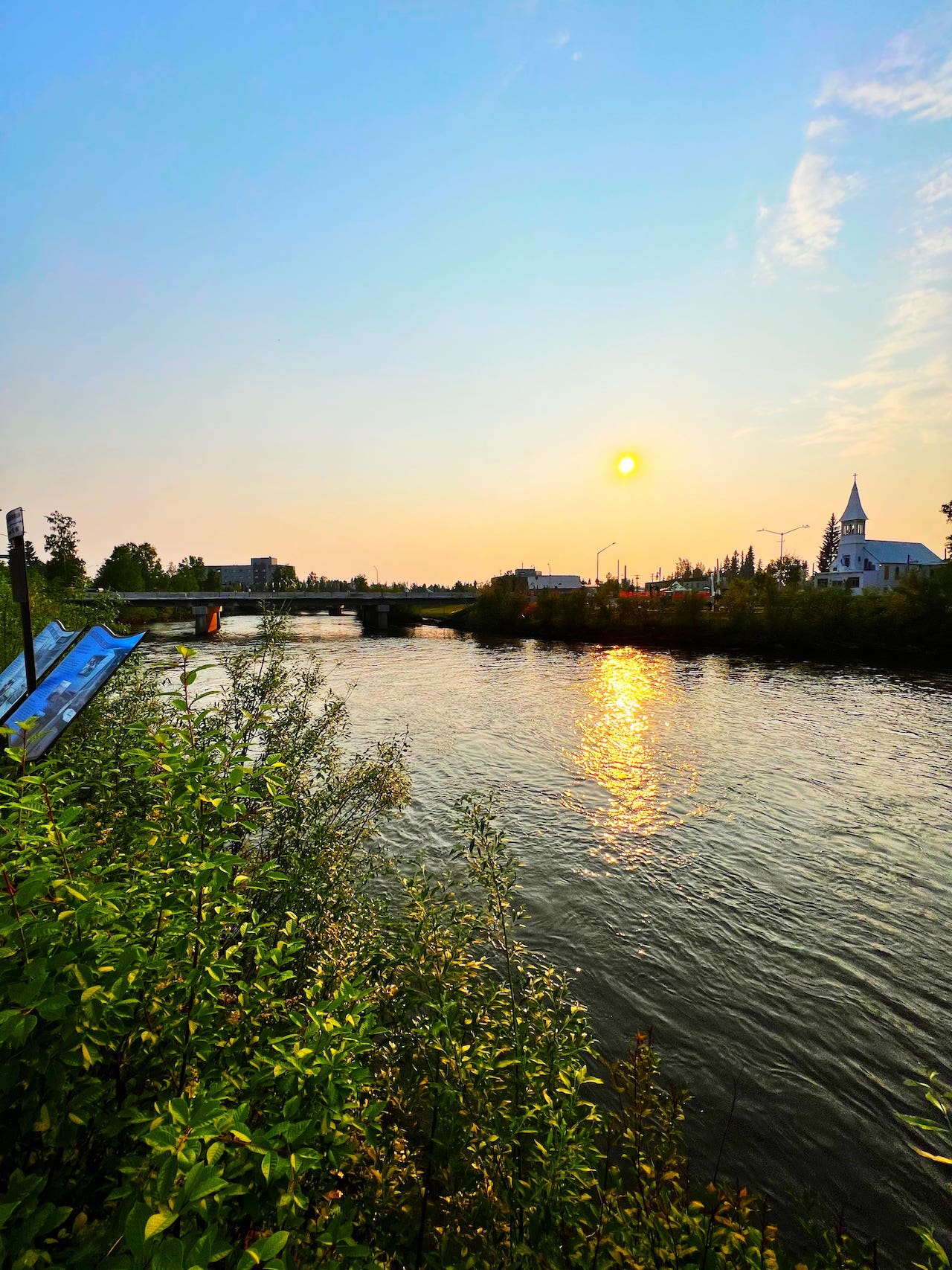 Day 4: Drowning your sorrows
Among other natural resources like gold and zinc, Alaska is also geothermally rich. It's first geothermal power plant was established at Chena Hot Springs and that's where we are going today. It is a 2 hour drive east of Fairbanks. For a $15/person fee, we got the day access to the Chena hot springs resort facilities, which was a good deal. The hot spring was a man made pool with hot water being poured on one side between the rock crevices and cold water showered by an actual fire hose to cool up the water. The day was cloudy and the air was still chilly in the morning which made the pool more enjoyable. The only sound we were hearing was the chirping of birds in the hills around us and the water fountain. We spent most of our time in the hot spring pool, and then some in the outdoor jacuzzi, before lying on the sunloungers to cool down and relish the place. We walked around the resort among flower beds, an ice museum, and lots of vintage cottages you can rent.
We drove back to Fairbanks and restocked on groceries as we'll be spending the next 3 days camping in Denali. Before leaving Fairbanks, we made one last stop at Alyeska Pipeline Viewing Point. The pipeline is a beaming example of human technological marvel transferring millions of barrels of oil from Prudhoe Bay at the shores of Arctic ocean in the north to Valdez in the south covering a total distance of 800 miles across Alaska resisting earthquakes, landslides frozen tempreratures, falling trees etc.
After a 2 hour drive, we arrived at Denali National Park, in severe rain. First a brief introduction. This park is unlike any I have visited before in terms of wildlife proximity. You will most likely see mooses and caribous roaming around on your campground. This is a 6 million acres park which is larger than the entire state of New Hampshire, though most of it is not accessible by road. There is just one road running across the park called the Denali Park road ,although you can only drive a portion of this road till savage river. The rest is only accessible by taking a paid park service bus. Since last year, the road is permanently closed at polychrome pass due to a massive landslide so thats the furthest you can go in the park in the coming 2-3 years.
The campgrounds themselves are well maintained. They have restrooms, showers, grocery store and even laundry facilities. Not even 5 minutes passed and we saw a cow moose grazing at the adjacent campsite. As the rain subsided, we quickly set up camp and sipped our coronas from its comfort enjoying the rain, listening to the drops falling on our camp roof. The smell of grass was in the air. This was Denali. Peace out!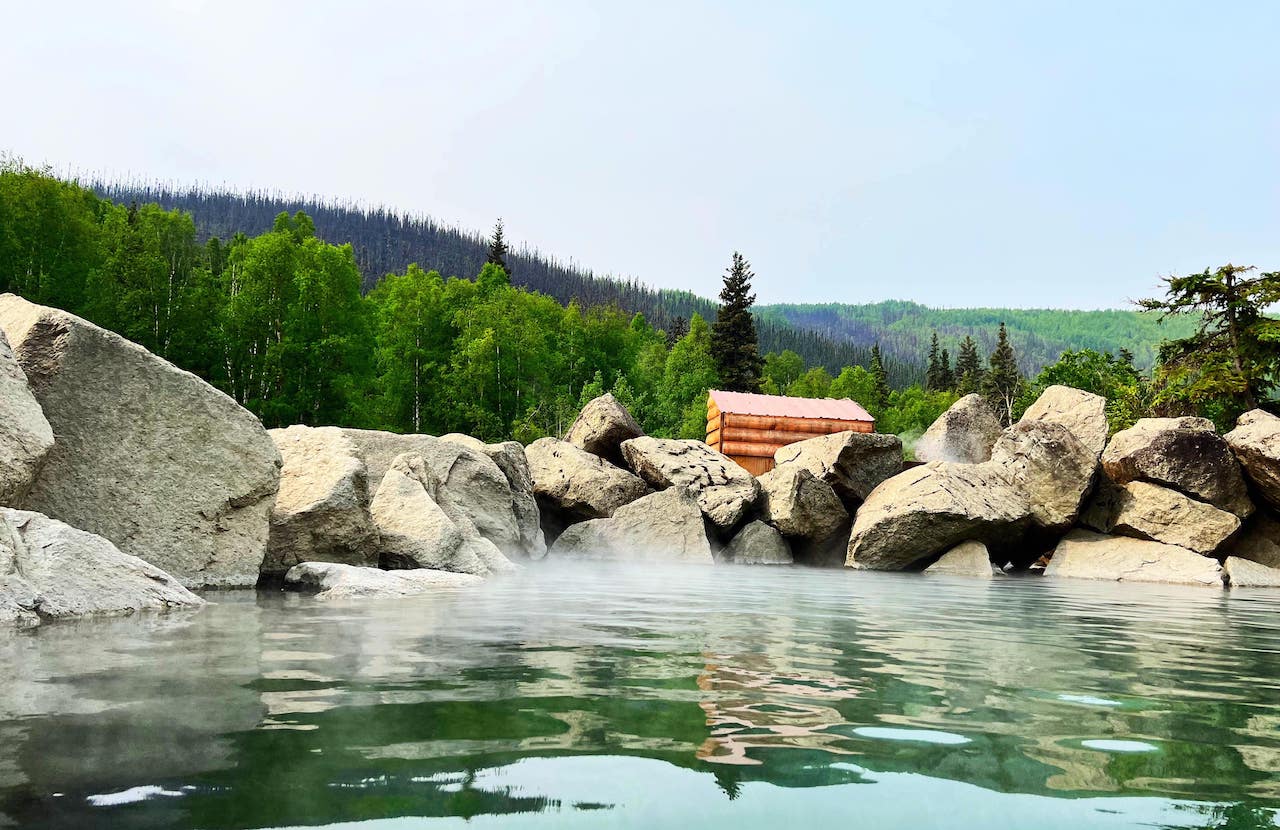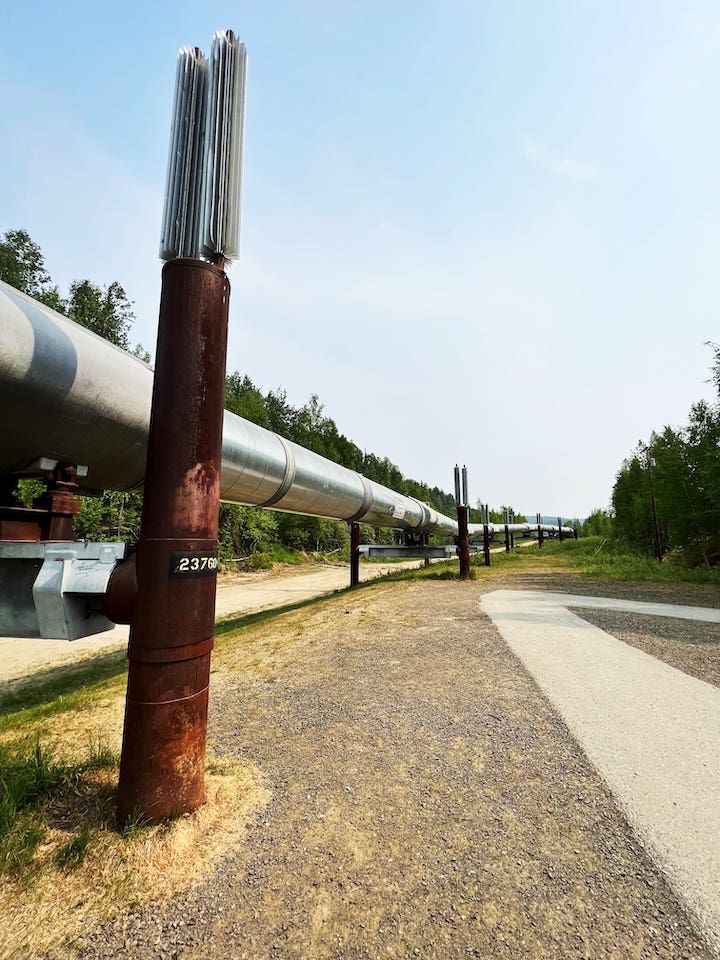 Day 5: Man's Best Friend
It was still cloudy after raining all night. We got up at around 8, packed up and on a short drive arrived at Denali Visitor Center for our first hike, Mount Healy Overlook Trail, a moderate 8 mile trail with significant elevation gain. Mount healy is visible from the trailhead parking lot itself so you know what you are up against. The trail winds around the dense forest with moose droppings on the trail to remind you that you are not alone here. Although, we did not see any wildlife, we came prepared with bear spray and made sure to keep talking among ourselves to make a bear aware of our presence. It turns out we are getting good at hiking and we made it to the top way ahead of time. You get a 360° view from the lookout point of the Denali highway, Nenanna River, Visitor Center, and the mountains surrounding you on your back. There were wildflowers on the upper portion of the trail and we were getting occasional sunlight between the passing clouds on a windy day. We made a note to see the turbulent Nenanna river when we exit the park.
Upon taking some rest and pictures it was time to head back. While we were at the visitor center this morning, we saw a Sled Dogs demonstration schedule for 3:20 for which we were supposed to catch a free park bus 40 minutes before that. We picked up pace and ran almost half the distance arriving back at the trailhead in just 40 minutes! Things we do for the love of dogs 🐶. Denali is the only park having sled dog kennels and we didn't wanna miss it.
The kennels are where dogs live, each having its own wooden home, kind of like what Spike had in Tom and Jerry. It was their summer vacation (for real) and most of the dogs were just having a time of their life lying down upon their respective kennels. Every once in a while a dog comes to play with you and get a nice rub in return. Their trainers were answering all the questions anyone had while giving details on each dog's purpose, training, diet etc. Finally, it was time for the demonstration. The trainers started jogging along the kennels to choose which dogs would be a part of the sled today. The dogs knew that and in that moment, the whole place changed. The dogs who were just sleeping and stretching a moment ago were now howling and barking anticipating that they get picked up. They are trained to enjoy being outdoors and run, so they run because they want to. On a single command, they started pulling the sled around a loop of the area drawing cheer and claps from the crowd. That was fun and a must see!
We were to camp in the Savage river campground for 2 days now which was further inside the park and is the last one accessible by car. First we went to get dinner just outside the park. Everything here is super expensive so brace yourselves. Ever had a $16 footlong sub in your life 🤑? Not even a bear is taking my sandwich today!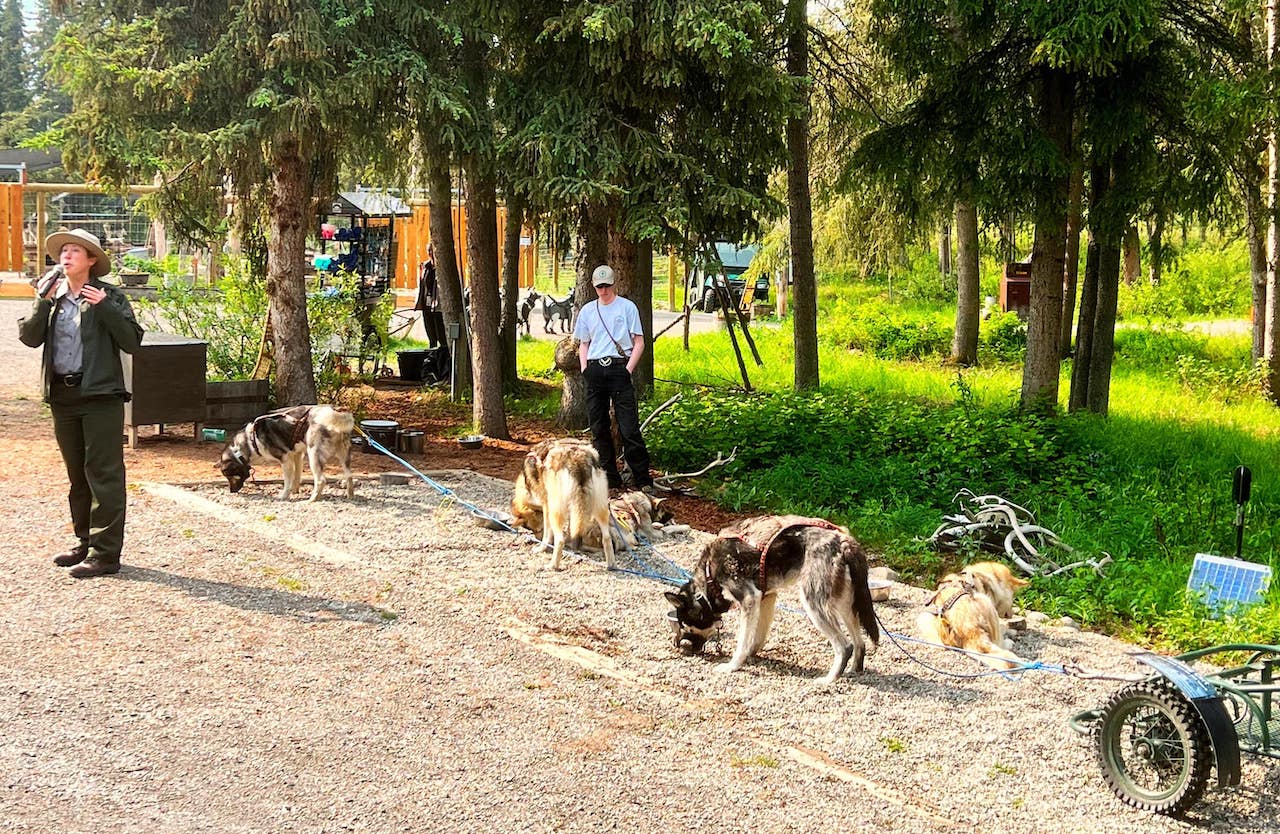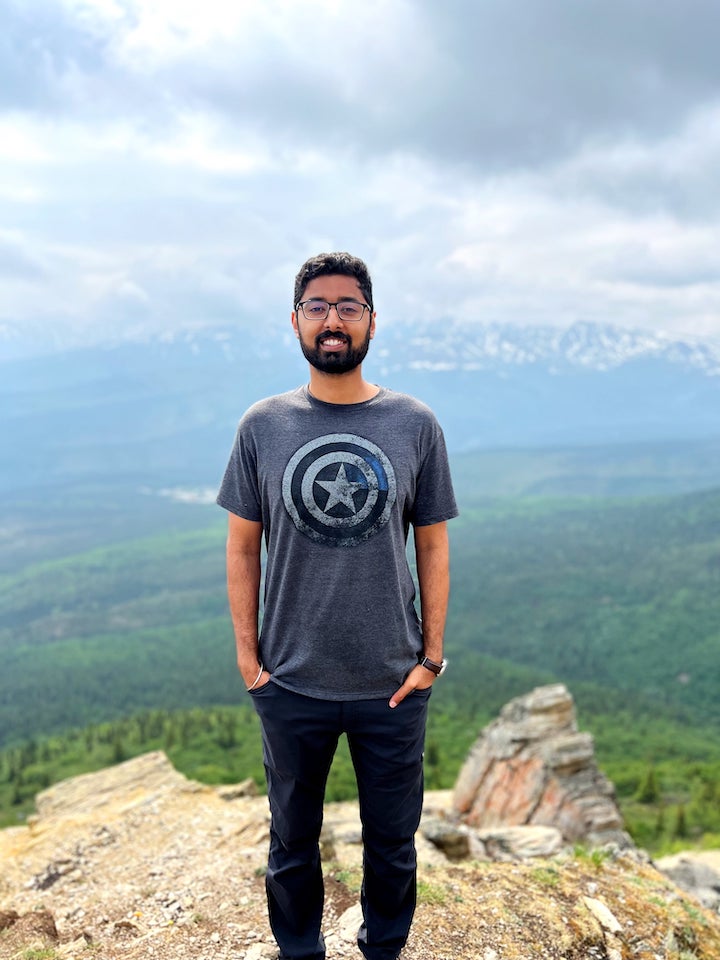 Day 6: The King in the North
As I mentioned earlier, you need a bus reservation to explore the park after Savage river. Our's was for this day at 6:30 am. We got up at 5 and saw that its drizzling. So we decided to take a later bus and went back to sleep. We were glad we did because it was sunny by 9 am. If you miss your assigned bus, they would only accomodate you if they have vacant seats which fortunately the 10 am bus did.
The bus ride was amazing! It was more of a guided tour with the driver telling us all about the places we were passing, the park history, interesting facts through her microphone. The bus took plenty of stops whener we saw wildlife like moose, dall sheep, bald eagles, caribous etc. The last stop is 2 miles before the polychrome pass on the river bridge, making it a 2 mile hike. Apart from the elevation, it was a fairly moderate hike as you walked on a wide road instead of a trail. On our left was the broad river valley with streams of water flowing down like blood vessels. The opposite side of river bank were lush green plains stretching out till they meet the base of the tall mountain range. There were more glaciers in this one frame than all of the glaciers I have seen before in my life combined. Though not visible from here, Denali is behind these mountains.
As we reached the polychrome pass, the green plains gave way to smooth hills of rustic colors of varying shades giving this place its name. We arrived at the landslide, where a portion of the road slid down some 300 ft down the valley. The views here were mystical to say the least. We sat on the edge of the road overlooking the valley and spent a long time here. This was by far the best thing we saw in our trip so far and we were in no hurry to leave anytime soon. From the bus stop, one has an option to walk on the river valley if they so choose. A moose just started running on the road creating a slight chaos among photographers. Ending the day on a bright summer evening, we sat around campfire 🏕 living our last day in the park.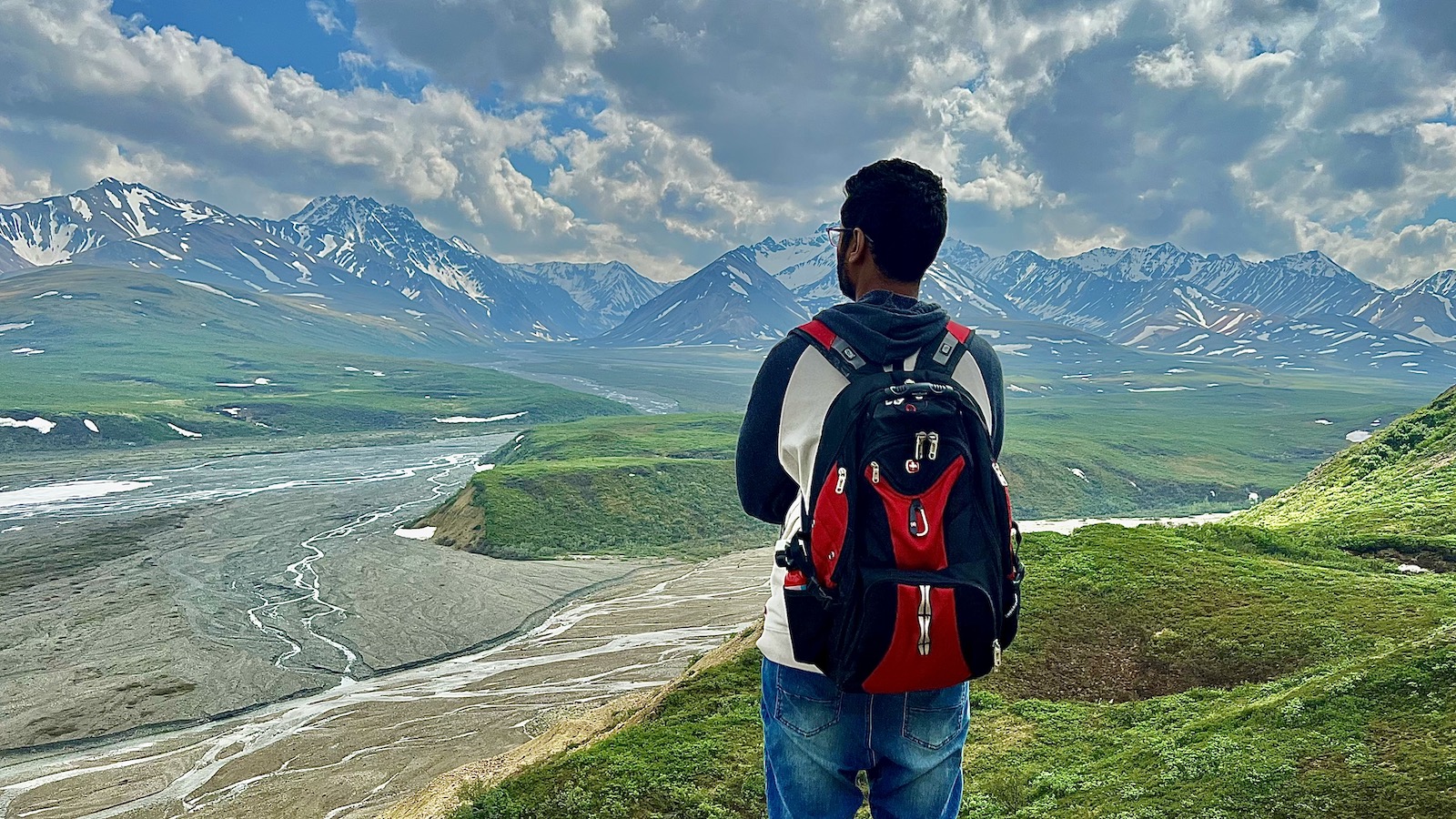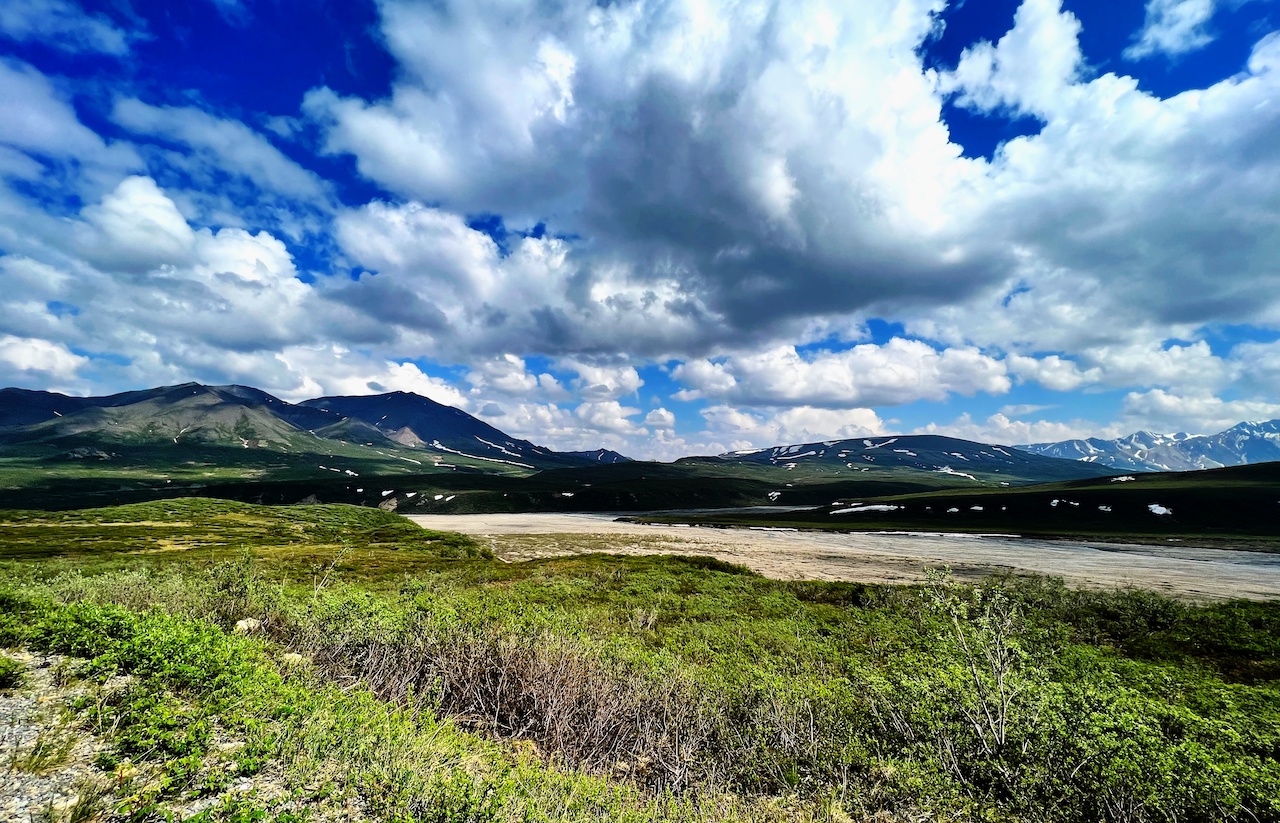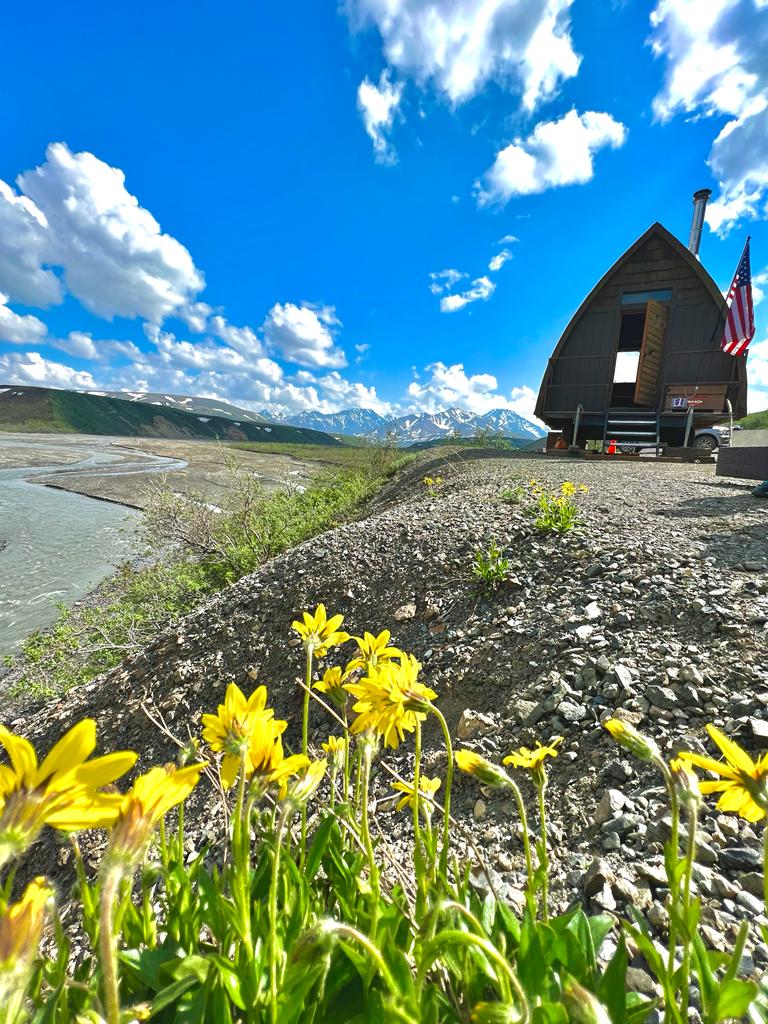 Day 7: No time to Dive
Time to say goodbye to Denali. It was a bright sunny morning with cool breeze, and for some reason we felt sad to leave. This place has been growing on us since we arrived. We drove to Nennana River Viewpoint right outside the park entrance. The river is turbulent in this stretch and thus was a prime spot for many rafting activities. Thare is pedestrian bridge you can walk on with rafting platforms on a few places diving directly onto the river. Right next to the river below us, there was the cow moose again with her infant, barely days old, stumbling frequently and struggling to walk around in the fauna like a baby taking his first steps.
We were to see a lot of gorgeous lakes today on our long journey to Seward and we still haven't seen Denali yet. The first place to see that was Denali North Viewpoint. Still no luck and the mountain was hidden behind the clouds. We drove further south still having one last chance to see it at Denali South Viewpoint. Alas, the mountain peak was visible from this point, majestic and taller than the rest of it's neighbours. Free binoculars made the view even better. After getting this much needed win and a long drive south, we came to Summit Lake (The one east of Anchorage). Its right next to the highway so pull over when you see a nice opening. Next on the list was Upper Trail Lake which was hard to locate. There's no sign and the entrance is a small dirt road between trees, but it's there. Surprisingly, the parking is big with lot of RV campers having a picnic beside the lake. It was perfectly calm and serene with glacial mountain backdrop. Next on itinerary was Kenai Lake. This one was way bigger with no end in sight, but equally breathtaking. There are some guided fishing expeditions in this lake if you are into it. When we were content we moved on to the last spot, Exit Glacier Trail, some 15 miles before Seward.
There was a bear spotted warning on the trailhead so we treaded carefully. It's an easy 2 mile trail which took us face to face with exit glacier. As we moved along the trail we noticed signs with year posted on it, which signified that the glacier stretched till this point in that particular year. Approximately around the year 1947, the glacier was at the trailhead itself. We reached the end in no time there it was, the massive blue glacier ice in all it's glory. I have never seen a glacier this close. Its phenomenal to see something so ancient and alive. You will occasionnaly hear a loud thunder very similar to a lightning on a stormy day. It was the glacier shifting on it's own weight. We could have also done the 8.2 mile trail, taking us all the way to the top of the glacier, providing a window to past ice ages - a horizon of ice and snow called the Harding Icefield, but we were short on time. The glacier receded quite a lot in the preceding years and has become an icon of climate change.
We reached Seward around 9 pm. This is an extremely expensive tourist town so make sure to know the prices before you enter any eatery. We didn't and ended up paying $20 for a mediocre burrito. The accomodations were expensive as well, so we had booked a hostel for the night. Located in a small area between mountains and ocean bay, the town itself is pretty small and scenic. There's a waterfront with an array of boats parked, with seafood restaurants and hotels lined up on the docks.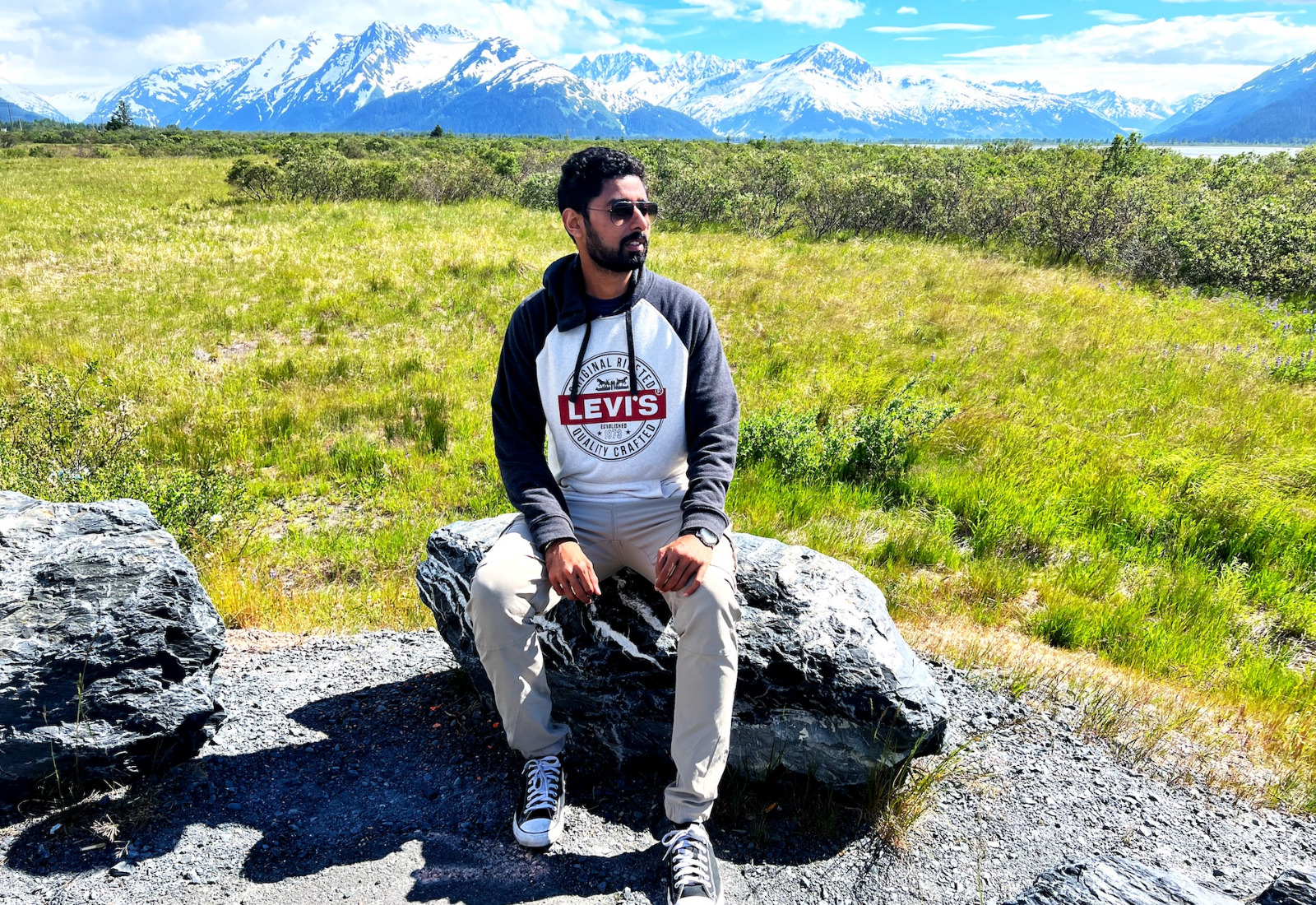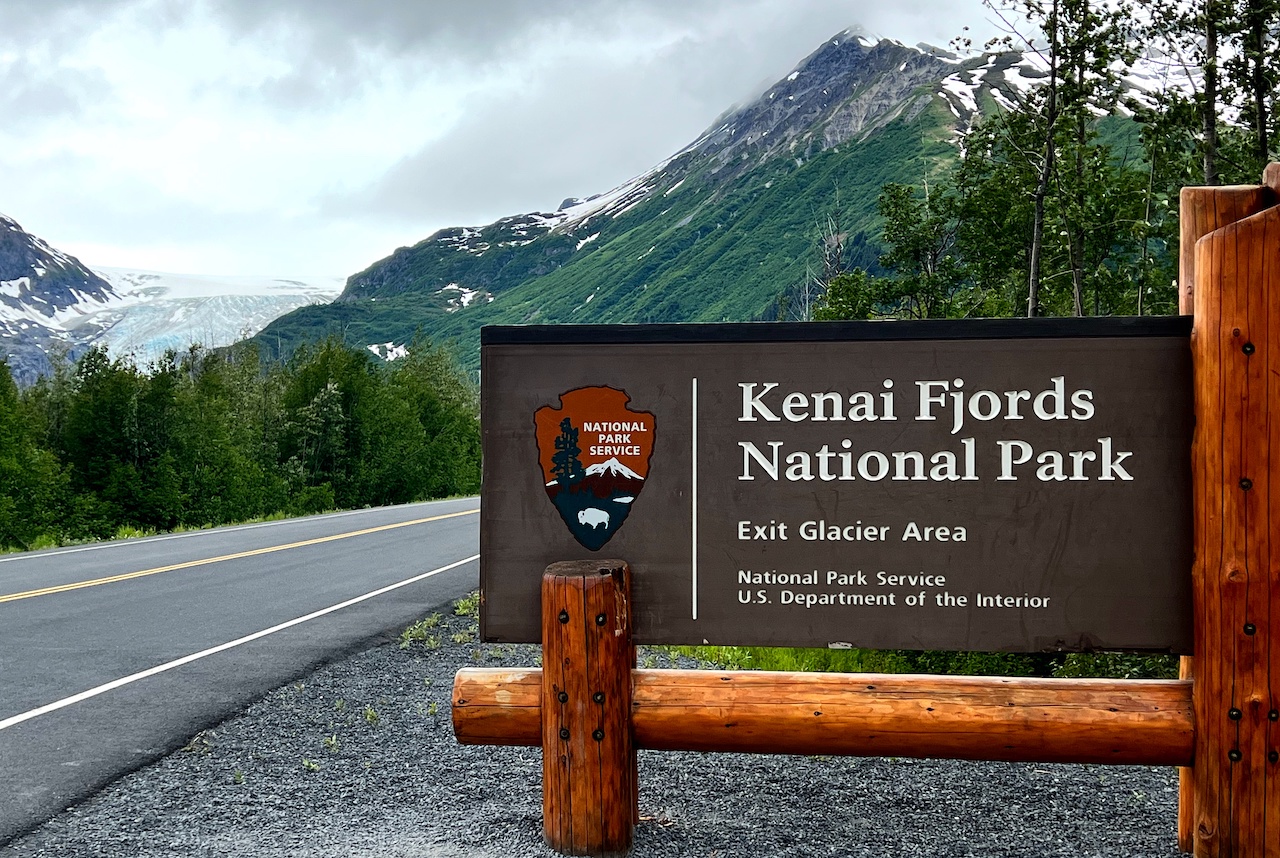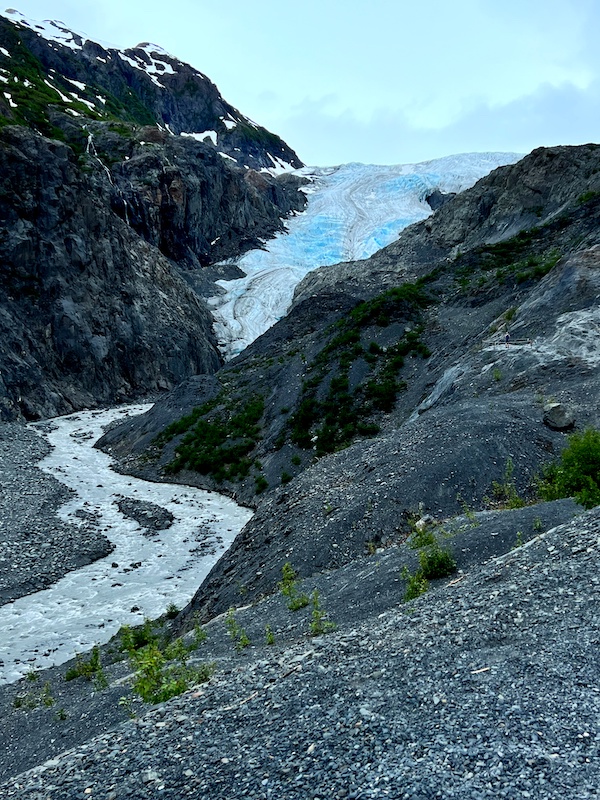 Day 8: The Shark Tank
Time flies by when you are having a good time. It was the last day of our trip. We would be visiting the Kenai Fjords National Park today, accessible only by boats. We booked a cruise which would take us on the shores of the National Park with great opportunities to see glaciers and marine animals. The trip took 8 hours with Dinner included on the historic Fox island.
We sailed right on time and saw a bunch of adorable sea otters acting curious by popping their heads out of water every now and then. It was a guided tour ofcourse with the captain describing each and everything as were passing them. The boat stopped plenty of times throughout the trip on wildlife sightings. They took us to the area frequented by the orcas (also known as Killer Whales) next, and there they were. There were a couple of them in the distance but we could clearly see their contrasting black and white skin as they surfaced and dived again. They were moving fast and the captain of the boat was pointing them out via the announcement speakers.
Moving on, the boat corssed some rough open seas and we arrived at the south end of the Harding Icefield featuring Aialik Glacier. Its something you only get to see on Discovery channel. A glacier higher than a 10 story building, made out of sheer blue ice, waves crashing on it constantly as if trying to break it down. Blocks of ice were chipping off occassionally and falling into the ocean only to resurface and joining other pieces of floating ice some as big as a car. The boat crew pulled up one such piece of the glacier from the ocean and let us hold it and take some photos with this million year old piece (Ohh and drinks 🍸 were served with this glacial ice as well).
The cruise went around some more islands. Some had sea lions on their rocky coast, while some had thousands of colorful migratory birds nested in the tall cracks of rocky cliffs. It started drizzling and we were now moving to the open waters again. We were about to see another member of whale family, the humpback. Some minutes later, we saw a couple of them. Emerging at random spots, their huge tail fins were exposed when they took a dive, while a portion of their body visible as they resurface again. Even at this distance, they were massive. One also made the fountain when breathing air through blowholes, going feets in the air. It was quite an experience seeing the whales in open waters.
While heading back, the ship made one last stop at Fox Island for dinner. This place was something straight out of a tomb raider movie with tall mountains covered in dense forest and fog. Dinner was included in the reservation and we were served the famous alaskan pink salmon, grilled to perfection. Enjoying the dinner with a view of the resurrection bay was a bliss. Interesting Fact: It's named fox island as this island was used to cattle foxes for their expensive furs. Foxes are afraid of swimming and thus were basically trapped here. When that business took a hit in the great depression, this island was used as an illegal alcohol distillery during the prohibition period, ironically using government's own cheap subsidised corn to make the malt.
Later in the evening, we arrived back at the Seward port. A bald eagle 🦅 was sitting on the pier, soaked in rain, but dauntless. After docking, we started driving back to Anchorage. The rain had stopped and the sun was pretending to set on our left. We drove past the spots we covered before on this road not even a week before, but it felt like a lifetime has passed since we were here.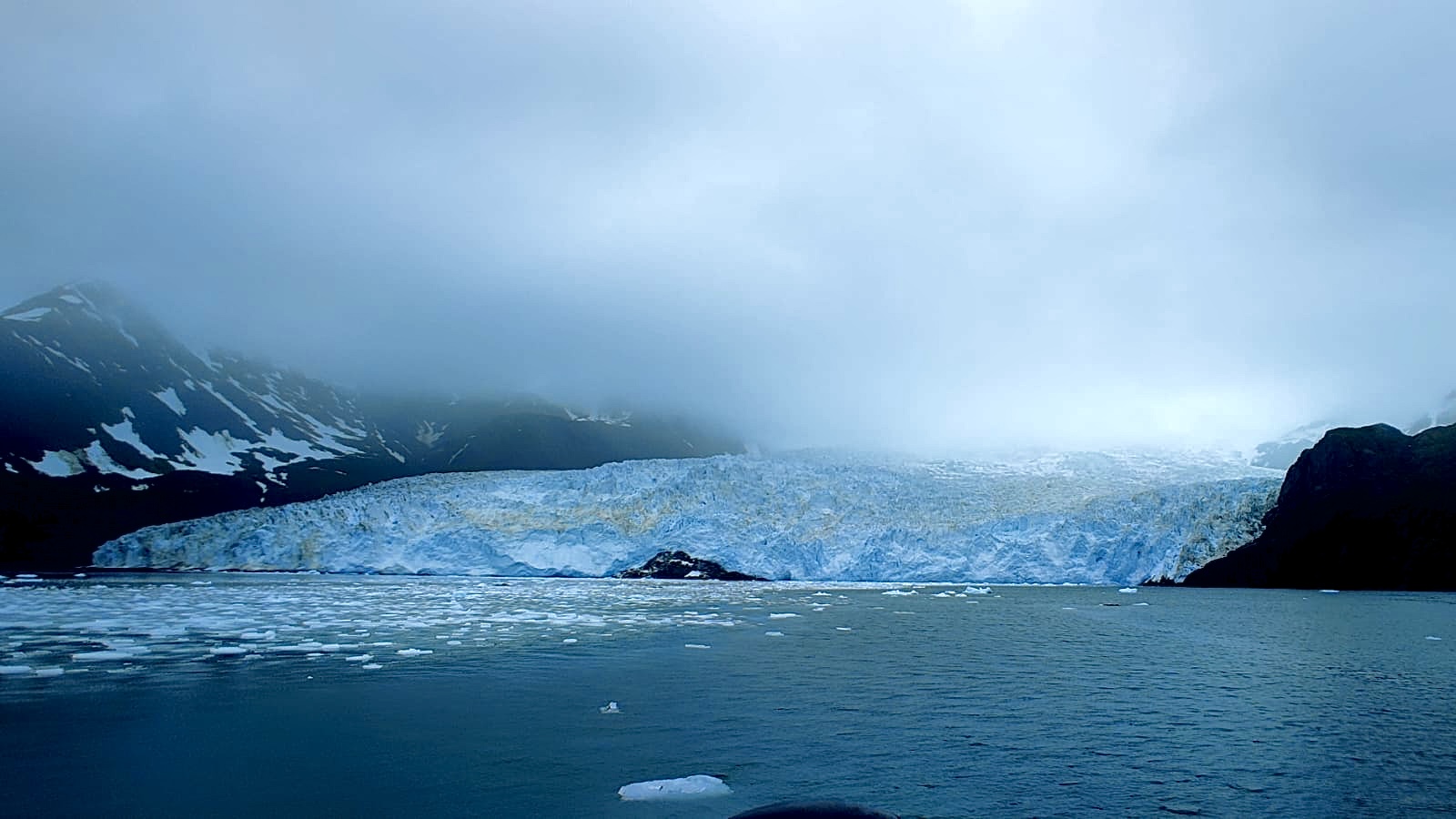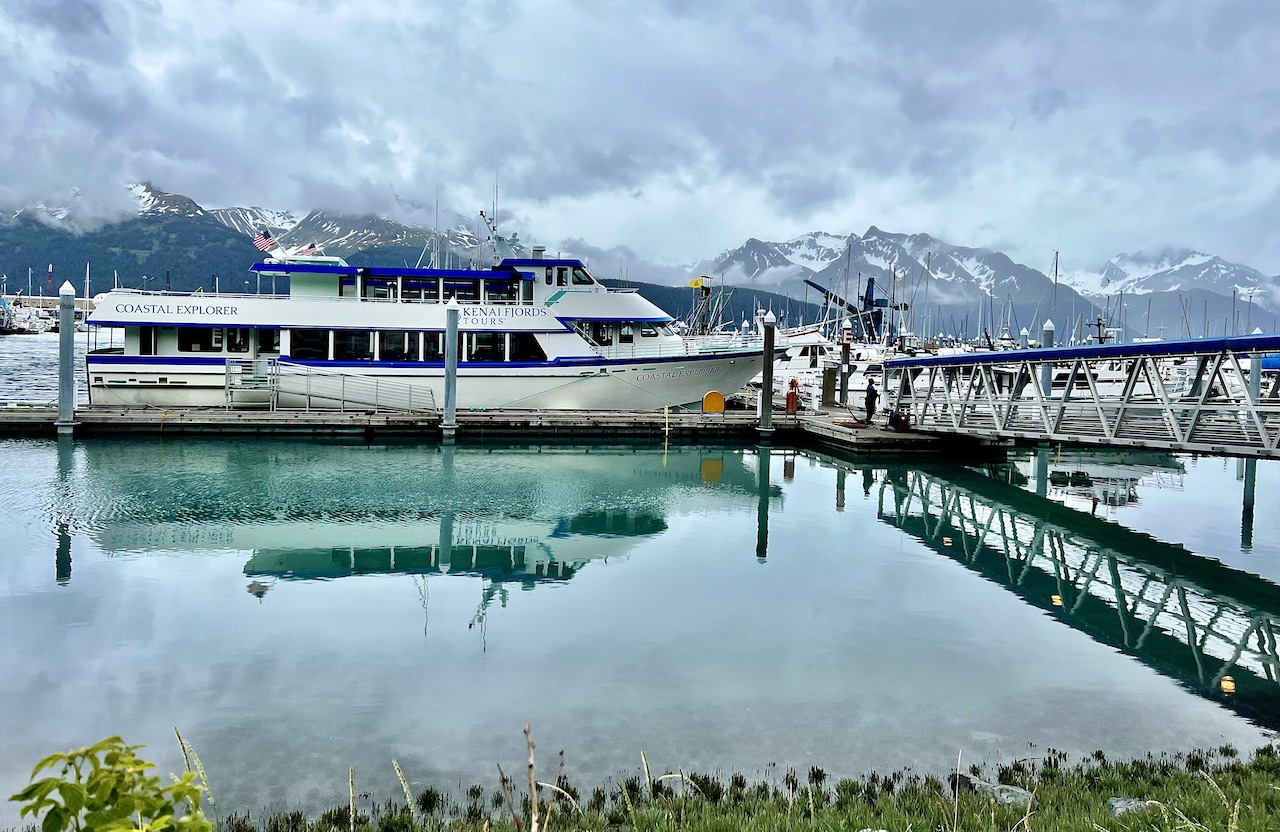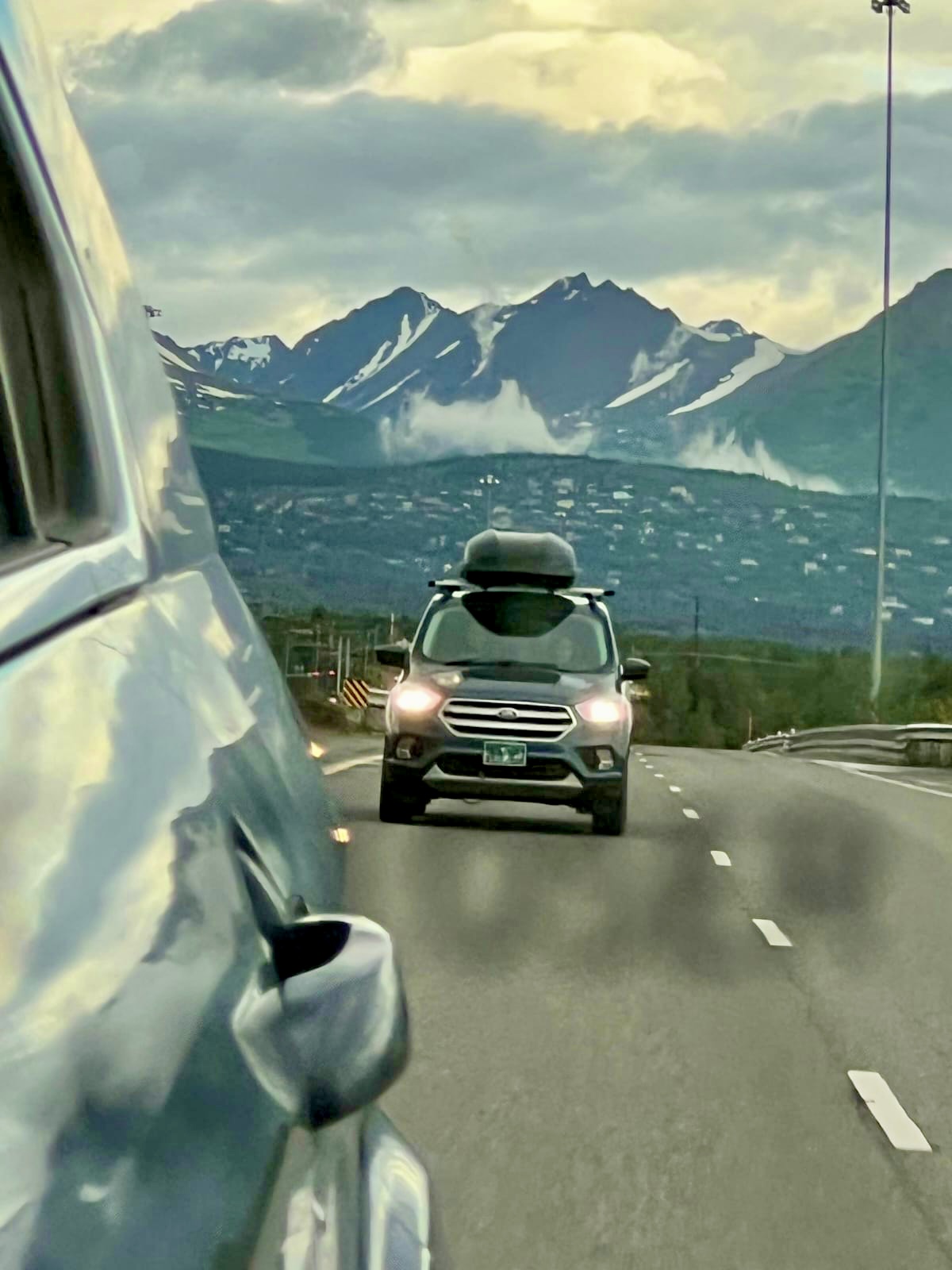 Alaska is the biggest state in US, mostly uninhabited and pristine. Travelling 1600 miles in a week, there were so many great spots we saw and so many we just had to drove past with a heavy heart. Glaciers and alpine lakes for which we had to walk miles of hikes before we could even see them in the Pacific North West were accessible right on the parking lot. From geothermal hot springs to icy glaciers, from the tallest mountain peak in North America to the shores of the largest ocean on the planet, from miles of sprawling forests to infinite ice fields, from bears ruling the lands to killer whales navigating its shores, Alaska had it all. I realize that I have only seen all but a small portion of what there is, but that was still enough to spark that unrest in me; it just might be that John Muir was right all along and I will not be satisfied with any other place for as long as I live. May be that's what the last frontier is all about. Till next time!