A Perfect one week road trip itinerary for Glacier National Park from Seattle
Welcome to my first blog! For planning any trip, we usually start by searching for some good itineraries. While some of them focus too much on hikes, some lean more towards exploring the urban localities like coffee shops, art galleries etc. It's hard to find the one with just the right balance. I have been travelling in the US for quite some time now and figured why not share some of my experiences and ideas I picked up along the way. Lets face it; we have limited vacation days (and budget) so it's crucial that our plan empowers us to explore all the best places under these constraints and to have a great time as well. Planning a roadtrip is not an easy task and I am here to help. I have been on this roadtrip in the late summer month of August and can tell you about all the best places to visit, what to do there and all the attractions on the way you never knew existed.
If this article is able to inspire even one of you to do this trip, I would believe I did a good job. Let's Start!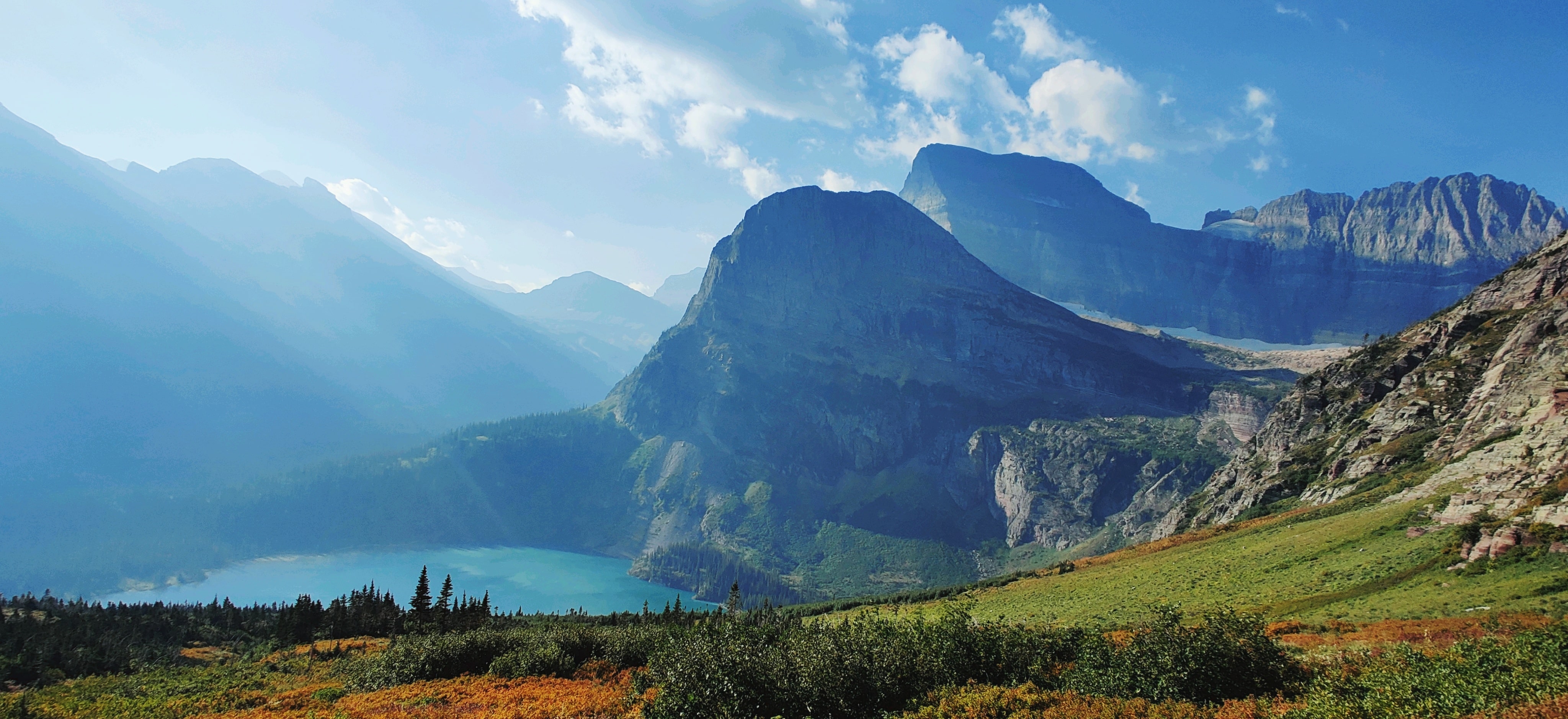 Wander here a whole summer, if you can. Thousands of God's wild blessings will search you and soak you as if your were a sponge, and the big days will go uncounted. Give a month at least to this precious reserve. The time will not be taken from the sum of your life. Instead of shortening it, it will indefinitely lengthen it and make you truly immortal. Nevermore will time seem short or long, and cares will never again fall heavily on you, but gently and kindly as gifts from heaven. - John Muir, Naturalist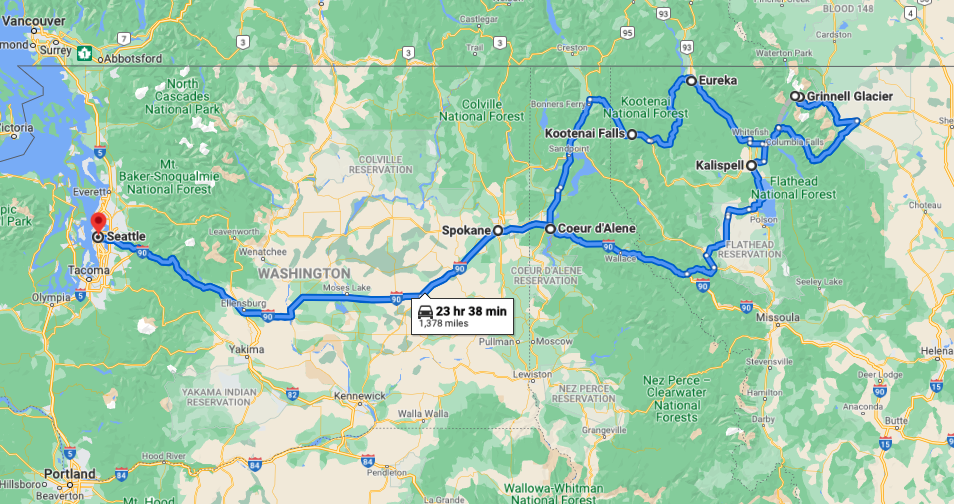 Points of Interest
These are the cities and National Parks/Forests which we covered in our trip.
Spokane, Washington

Coeur D'Alene, Idaho

Kootenai National Forest

Eureka, Montana

East Glacier National Park, Montana

West Glacier National Park, Montana

Kalispell, Montana
Day 1: A Cozy Start
After having a nice breakfast and packing our luggage in the car, we started driving on I-90 east to Spokane (Little did we know, one of us left our new flip-flops in the parking). The drive to spokane is 4.5 to 5 hours and we reached around 2 pm. We checked in at our Airbnb, and relaxed for a couple of hours. It was hot outside and we were in no hurry to go out. Tip: Set your own pace. Enjoying one spot is always better than being tired at two.
Our first stop was Riverside State Park which is around half hour drive from the city. The park requires a Discover pass or a $10 fee for day parking. America the beautiful pass is not accepted here. Start out by walking across the swinging bridge at Bowl & Pitcher. Spend some time enjoying the views of an impressive river, rocky outcroppings, and some expansive views. This place was of great importance to the Native Americans and you can read all about them in the information boards on your way in. We strolled alongside the river for a while and found a nice spot on the river bank to enjoy the scenery. Tip: If you like camping or would like to start, this park had some great camping spots with relaxing river vibes.
Next, you can head over to Huntington/Riverfront Park, which is in Downtown Spokane. Spend some time at the park which features Spokane falls, chinese art, musical fountains, street performers etc. We finished our first day with beer and pizza at a nearby Brewery.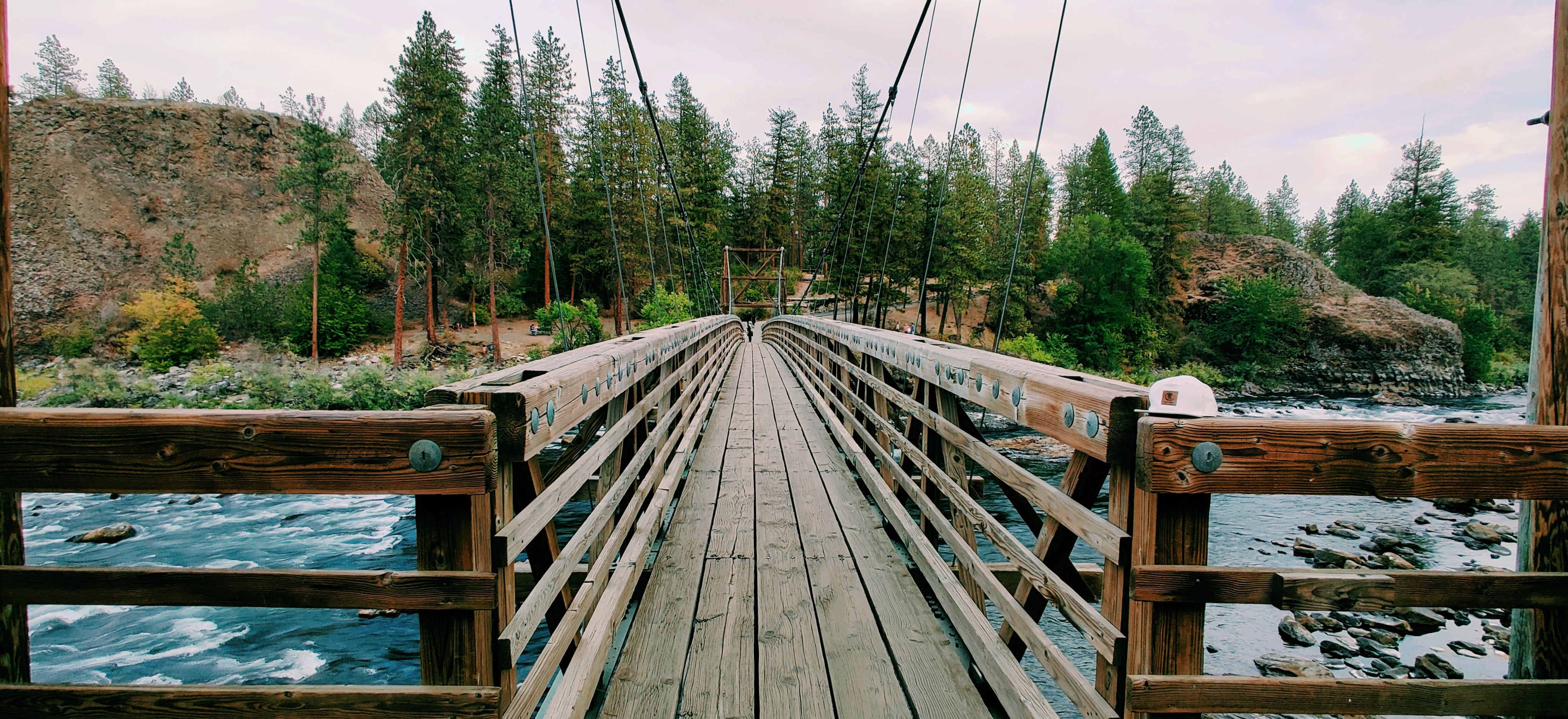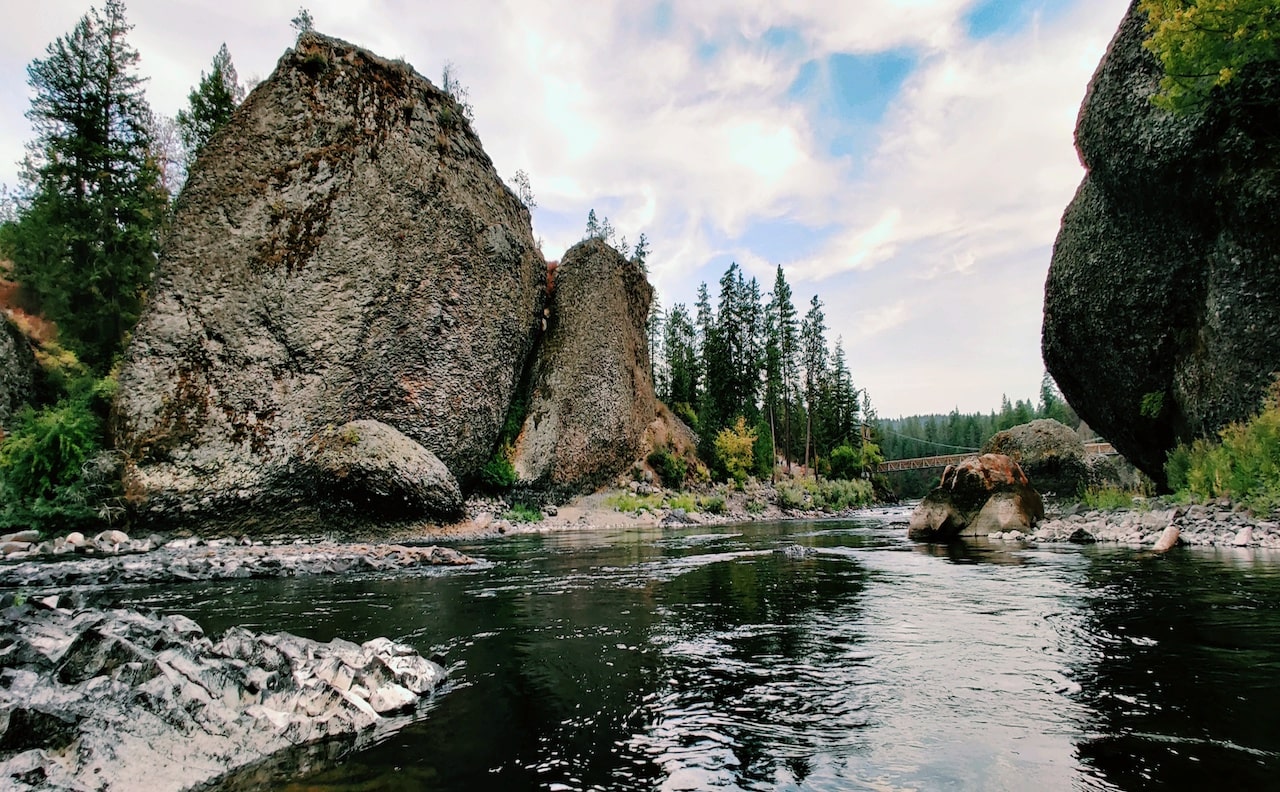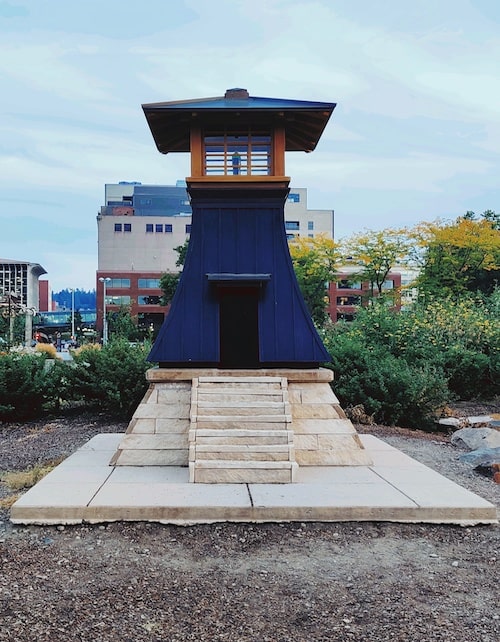 Day 2: A Nice Tan
It's time to see the picturesque town of Coeur d'Alene which is a 30 minute drive from Spokane. Important: Don't forget to pack your swimwear. We started with a walk in downtown which is adjacent to the lake and the park. There are a lot of cozy cafes on this street (though most of them $$$). Do a google search to find a good one for some breakfast.
Finally, head over to Lake Coeur d'Alene which looks stunning on a bright sunny day. Take a short 10 min walk at the trail which starts beside the bar at the pier. Along your walk you will come across some great spots to have a swim at the lake, many already been claimed. Find a place to change into your swimwear, or if you are like me, right there is just fine. Tip: This is a perfect place to swim. The shore is relatively flat and the water was calm and clear. After the swim, lie down on a nearby rock, put a t-shirt over your face and let the sun dry you out. As a guy, I am kinda embarrased to accept how good it feels, but hey, who cares, we are on a vacation. It was so relaxing that we totally decided to skip the 3 mile Mineral Ridge National Recreation Trail (which just continues on the same path on you came in) that we had on our itinerary. But again, itineraries are for you, not the other way around!
Continue your afternoon at the Downtown, grab some lunch (you'll need it after the swim), icecream or whatever you are into. We spent the rest of our afternoon at the park, just sitting in the shade under a tree (Remember when you did that last?) eating our lunch and chilling. At sunset, drive back to Spokane and end your day with dinner. Tip: Keep in mind that today is the last day you have some great food options for a while, so make it count!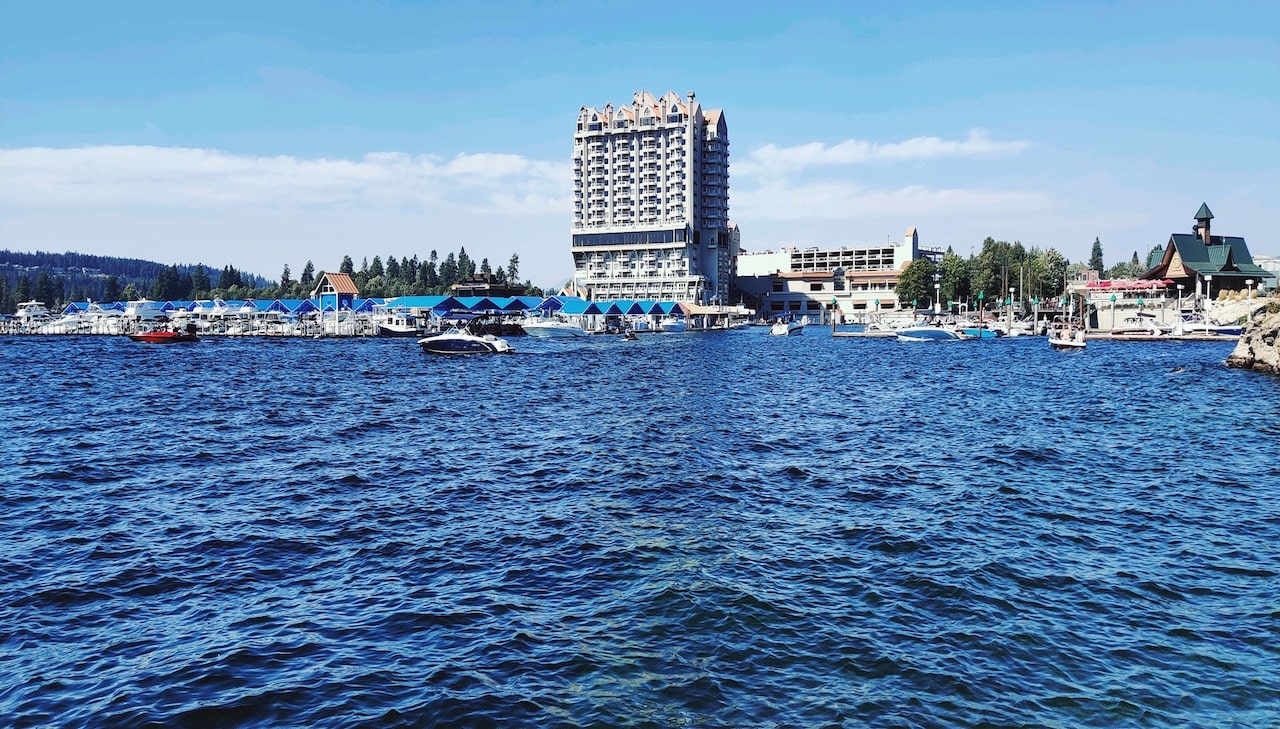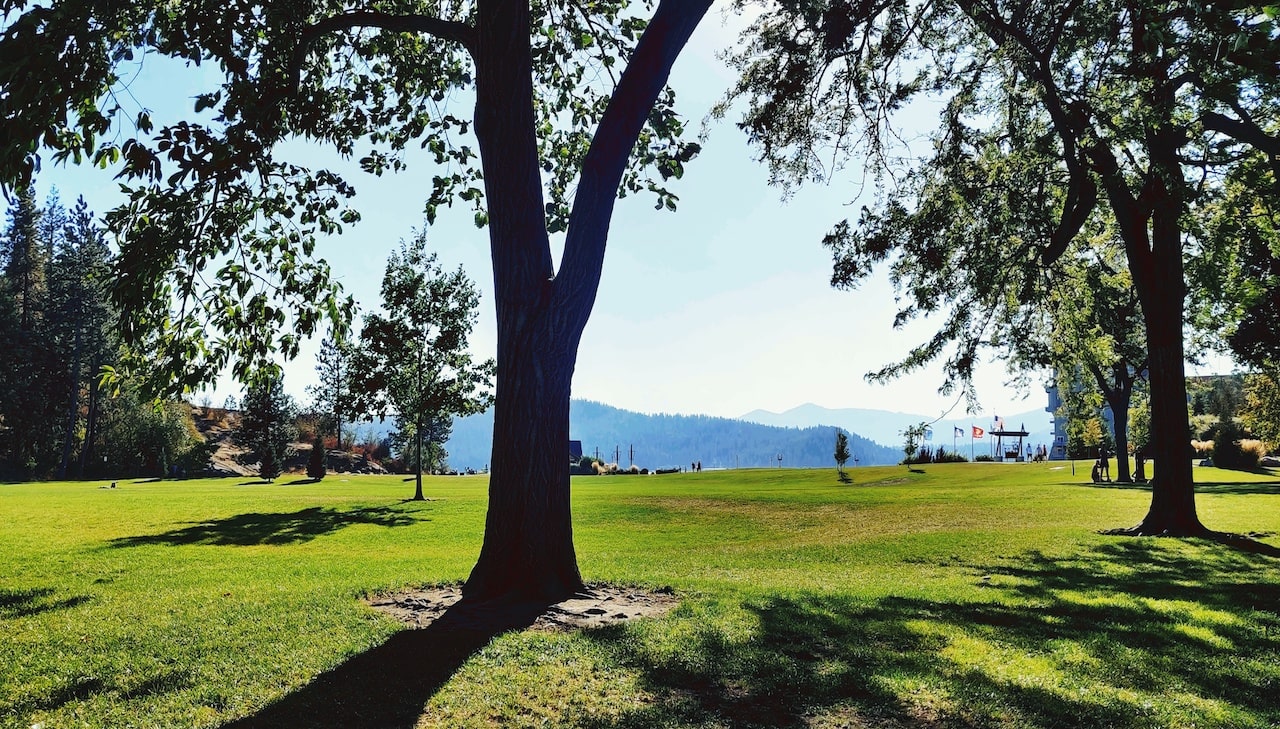 Day 3: Into the Wild
After grabbing some coffee and treating ourselves with a nice toasted Bagel and cream cheese, we set our first stop as Kootenai Falls which is a 2.5 hours drive. This is one of the most beautiful and underrated waterfalls you'll see in the US. Its only a short 20 min hike from the parking to the waterfall, with no elevation gains and a footover bridge for crossing the railway tracks. We visited in summer, so the water flow was enormous. There's also a hanging bridge on a short detour from the trail, in case you want to explore the area some more and even a small cafe at the trailhead.
The next stop on the itinerary was Leigh Lake, which would entail one of the first hikes for the trip. This is 2.7 mile lightly trafficked trail located near Libby, Montana that offers the chance to see wildlife and is rated as difficult on Alltrails, but I'm an average skilled hiker and found it more on the medium level (in case you get intimated with the difficulty). This is an enchanting blue pristine lake, against a mountain backdrop. We had the lake all to ourselves and only saw one other group on our way down. Make sure you carry a bear spray for this trail as this area has some bear activity. Tip: The lake is a great spot to have your lunch and take a lot of pictures.
Drive out of the wilderness the same way you came in, this time your destination set to a small town called Eureka, Montanna where we booked accomodation for the next couple of days. It's a 2 hour drive along Kootenay River on your left the whole time. Feel free to stop for some of the amazing views of the river as you pass Libby Dam. Upon reaching Eureka, it was almost sunset. We grabbed some wings and Pizza from a place called Fire & Slice Pizza. We stayed at this amazing Airbnb in a Tipi 🏕, made campfire, had some beer and watched sunset! Sunsets are beautiful in the Montana countryside so try to watch as many as you can while you are here.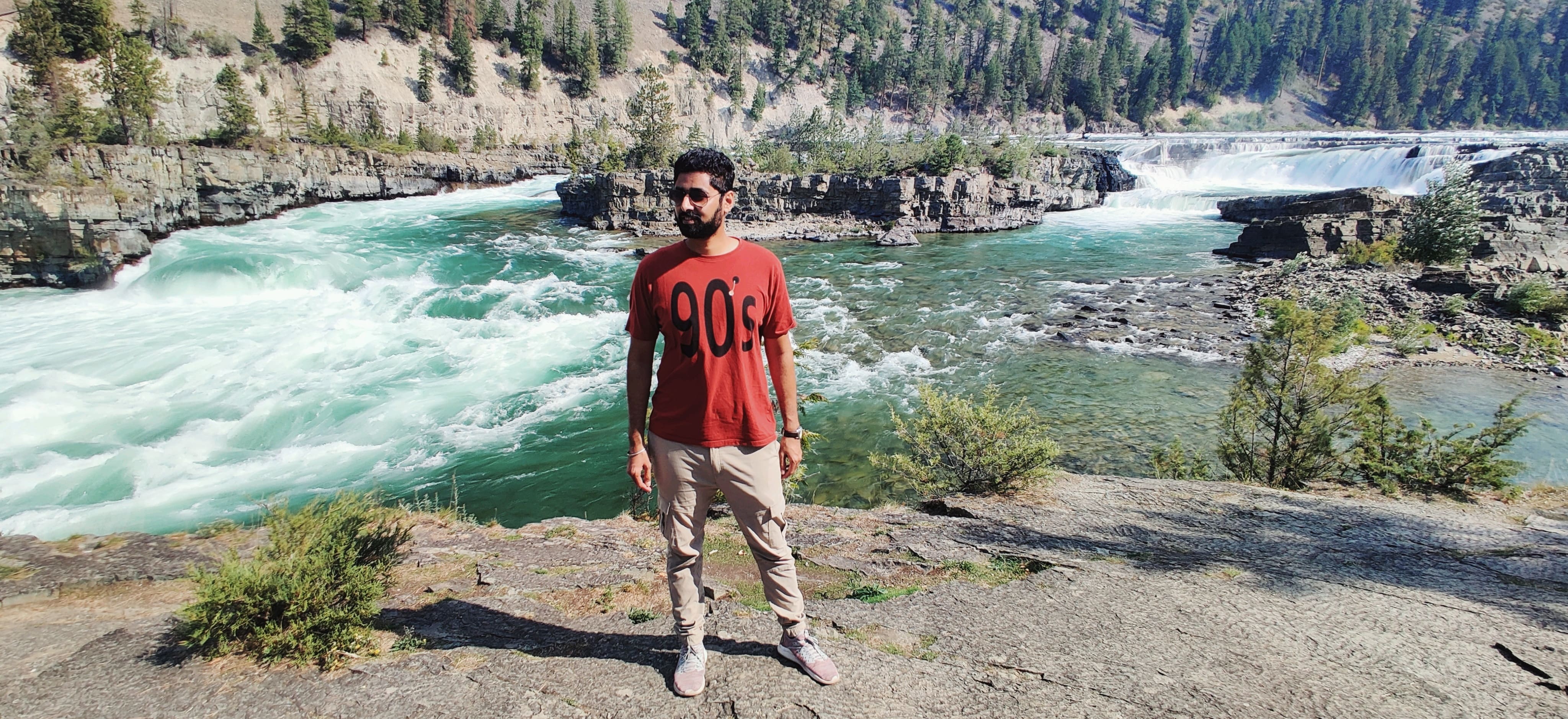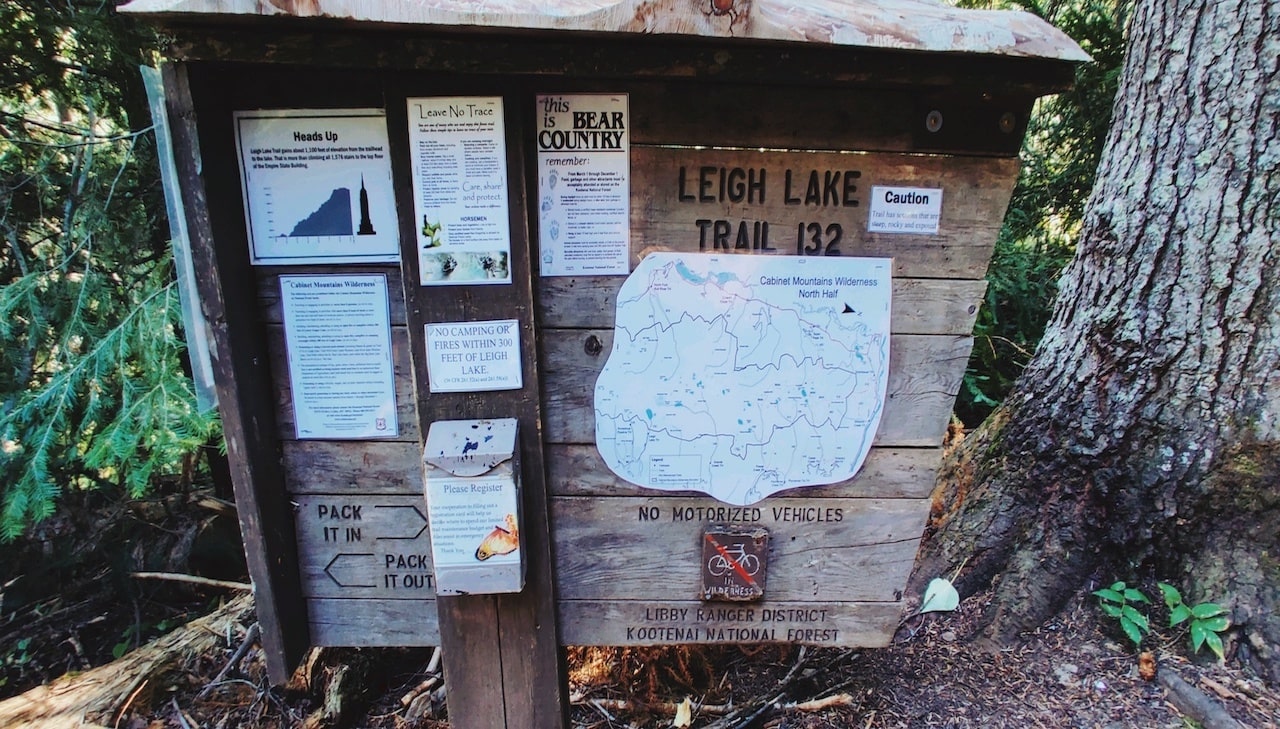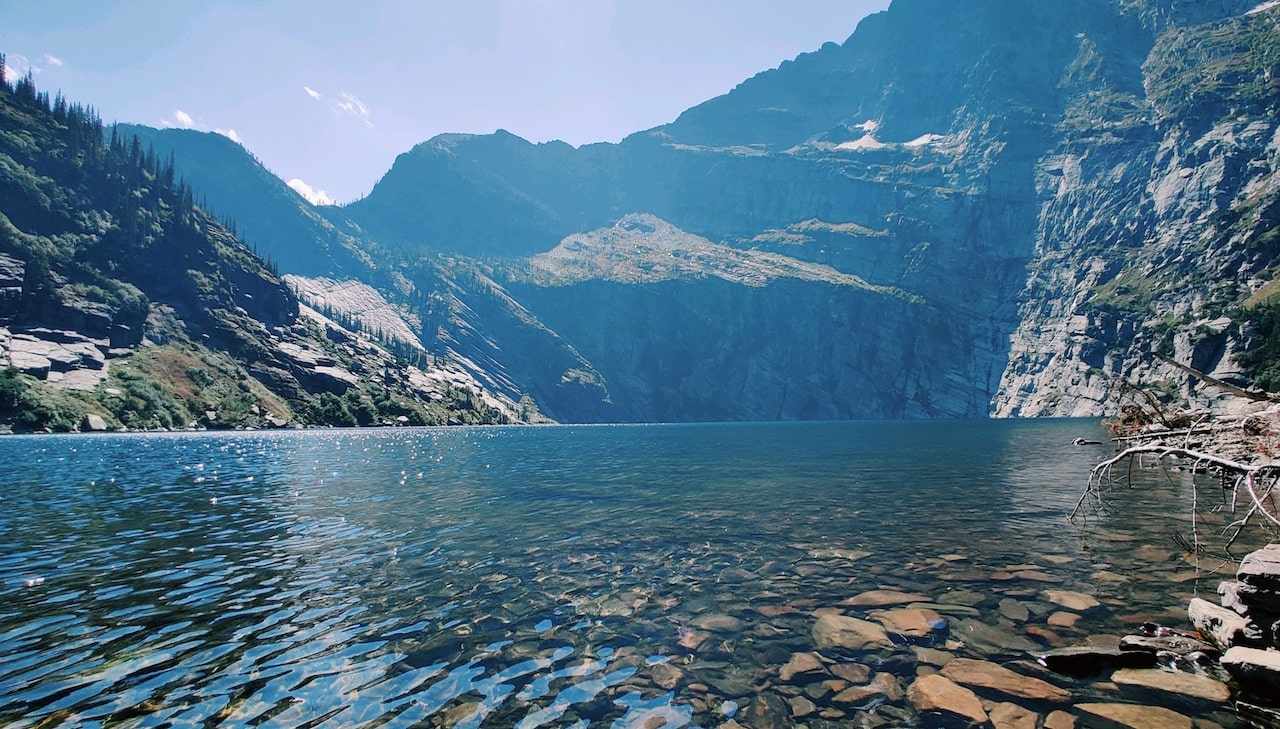 Day 4: The one with too many bears
The first stop today was Bluebird Lake which is a 90 minute drive from Eureka. This is a charming backcountry lake in the Ten Lakes region and is rated as moderate. This trail is as remote as it gets. Unfortunatelty, the trail was experiencing some significant bear activity on the day we arrived, so we had to let it go 😥 Tip: Pay attention to the trailhead warnings specially if you are in a bear country. Time to improvise 🤔
After some research on Google, we decided to make a trip to Libby Dam (the one we passed yesterday). There is a visitor center you can check out and they offer tour programs as well (Be sure to check in with them on hours of operation due to Covid). The Souse Gulch day use area near the visitor center offers playgrounds, picnic shelters, and boat ramp access to lake Koocanusa. This is a great spot to have a picnic with a view of Lake Koocanusa. After soaking in some breathtaking views, we headed out to Abayance Bay Marina, which is just outside of Eureka. This is a one stop shop for Kayaking, boat rentals and it even has a restaurant right on the lake. It's not mentioned anywhere online, but this place has one of the best views on the trip I have had so far (you'll see).
We stumbled across a beach right next to the picnic spots at the marina which had a dedicated swimming zone with safety ropes. Surprisingly, the water wasn't too cold. The area has restroom facilities, so we grabbed our swimming costumes from the car, changed and jumped right into the water. Tip: Always keep your swimming gear, a towel and an extra set of dry clothes in your car when on a roadtrip. The views of the mountains across the river, boats passing at a distance and the fact that you are just minutes away from Canada made the experience even more delightful. We ended the day at our Tipi with the crackling sound of campfire, beer (now you know why I am an average skilled hiker 😋) and a subway. Tomorrow's going to be a long and early day.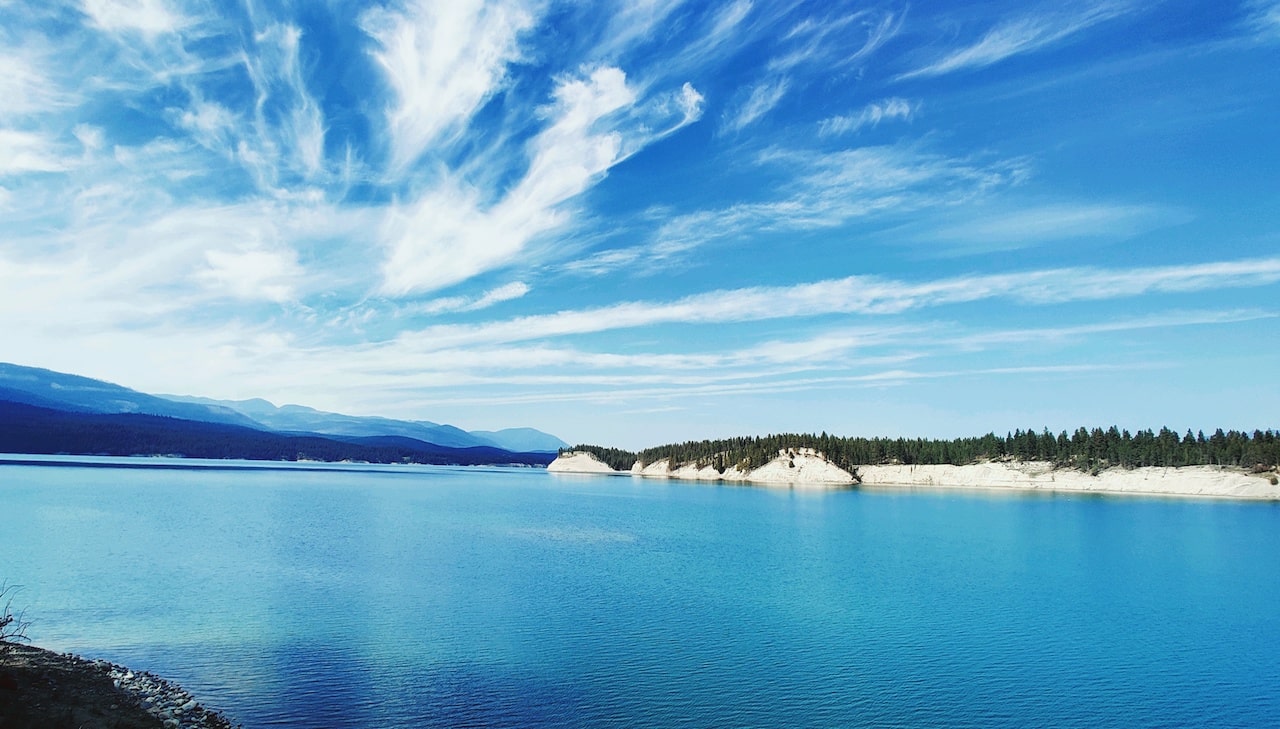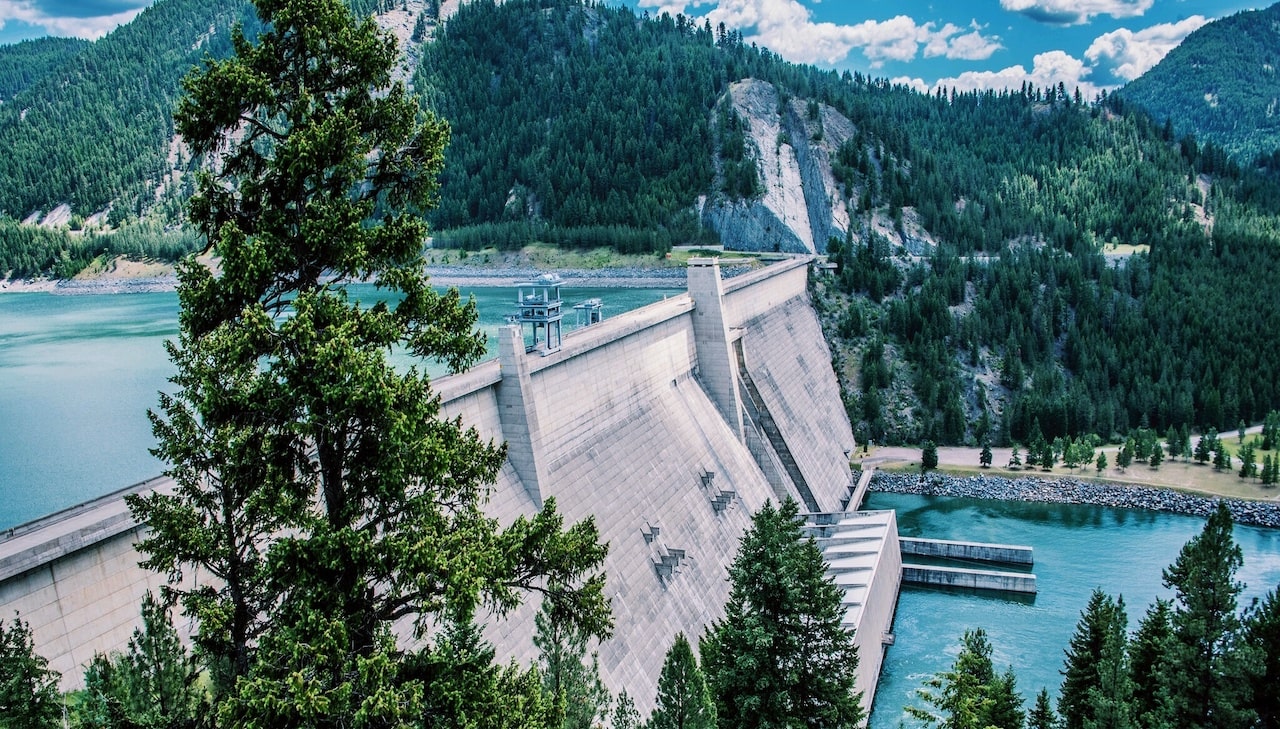 Day 5: First Love
Today's the day we head out to Glacier National Park (GNP). The park is divided into two parts, east and west. We kept two days each for East and West GNP and would start with East and work our way to the west. The Going-to-the-Sun Road corridor connects the east and west entrance of the West Glacier National Park and is the main arterial road. Vehicle reservations (ticketed entry) are required to access this road in in Summer months. Tickets for Glacier National Park for vehicle reservations go online March 2, 2022, so make sure to book in advance if you are visiting during summer. Each point of interest in the park and a lot great viewpoints is located along this road, so make sure to keep aside an extra hour or two daily for making frequent unplanned stops. The Logan Pass Visitor Center is the highest point on this road and a lot of popular trails like Highline Trail and Hidden Lake Trail starts from here.
We started early from Eureka and headed straight for the western entrance of the park. Right from the start you'll get in love with this place and be amazed by its sheer beauty as you travel up Going to the Sun road. There are a lot of spots along this road to stop and take pictures, so don't be shy. We made the first pit stop at Wild Goose Island Overlook Viewpoint. If you saw pictures of the park, chances are many of them were from this viewpoint. Stop here in the morning before 9 and you'll see one of the most mesmerizing views of your life. There is no hike required, so time spent here is only for the photos or just appreciating the serene lake and the snow peaked mountains.
Continue your journey to the Redrock Falls trailhead which is a part of Many Glacier area in east GNP. Almost all trails in this region starts from this one single location because of which the parking lot gets filled out very quickly, so plan accordingly. We were a bit late to reach there and had to park our car on the side of the road at a 5 minute walking distance from the trailhead. Redrock Falls via Swiftcurrent Pass is an easy 3.6 mile heavily trafficked out and back trail with a descent chance of seeing wildlife. We saw a cow moose posing for us on the redrock lake (We were told she's been like this for an hour or so). The redrock falls are, well waterfall on red rocks but quite bright and scenic. On top of the falls we saw a bull moose, eating all the leaves he can on a bright sunny afternoon, without a care in the world. On our way back the cow moose was still in the same spot. On the trailhead, do checkout the Swiftcurrent Motor Inn for souvenirs. We bought a toy moose 🦌
Just a 5 minute drive from here is the historic Many Glacier Hotel built on the shores of Swiftcurrent Lake. Check out this hotel's lobby and you'll be taken back in time. We also spent some time on the deck for some panoramic views of the lake with the sun just touching the garden wall peaks. Tomorrow, we'd be doing the best hike I have ever done, The Grinnell Glacier Trail. There are two ways to do this hike. One option is to take a boat from the Many Glacier Hotel. The boat crosses Swiftcurrent Lake, and then another boat takes you across Lake Josephine. This option shortens the hike by about 3.5 miles roundtrip. Although most hikers we saw chose to walk the whole way, and we found out soon enough why. The prices are absurdly high and the seats are limited. But if you still want to inquire about the boat, now is the best time to do it. Their office is right behind the hotel.
It would make a lot of sense if you choose to stay on the east side of GNP tonight. It will save you a lot of travel time today and tomorrow. We camped at a small town called Babb for the night. For dinner, we only found one option, Twin sister restaurant. The place was descent and their huckleberry pie is highly reviewed. We were so tired on reaching the campsite, that we just set up camp and called it a day. No fire today!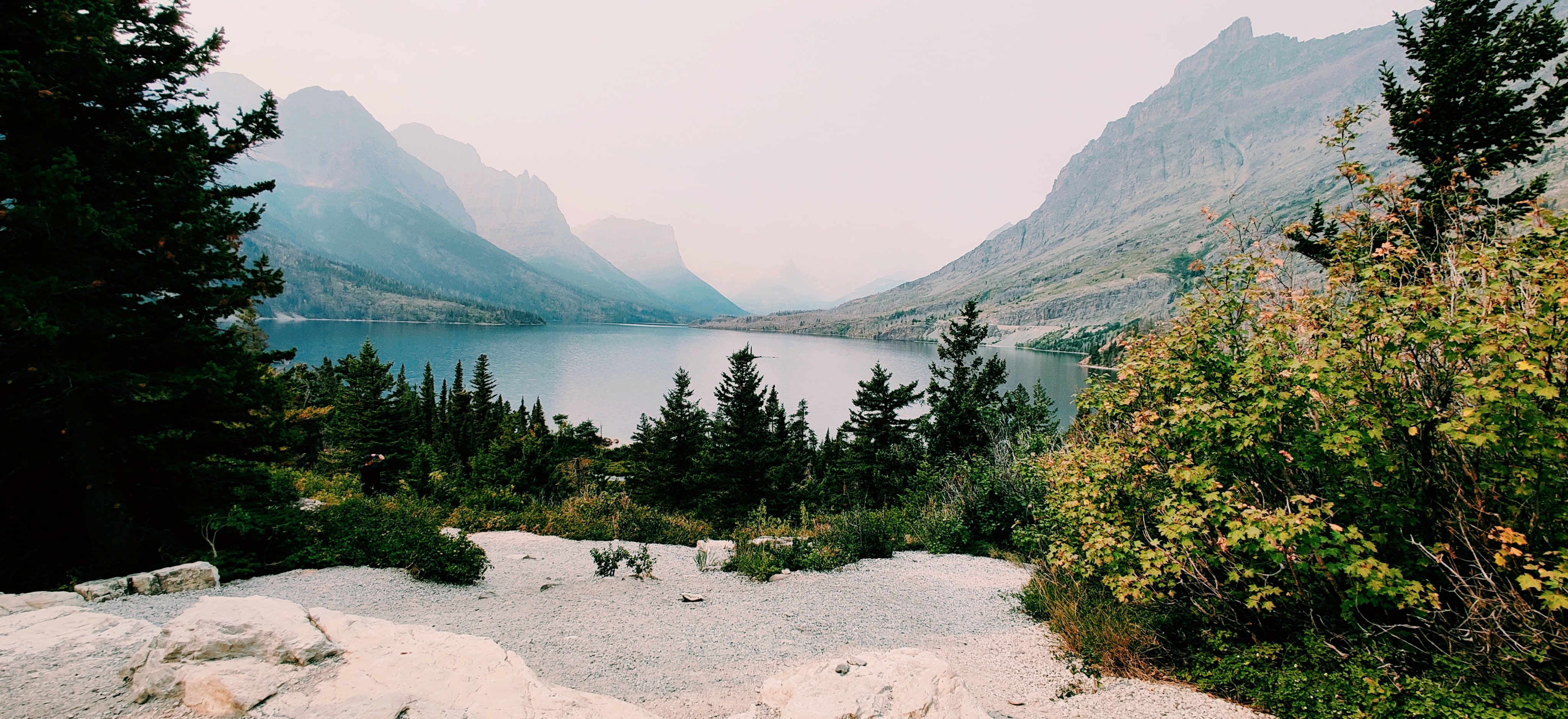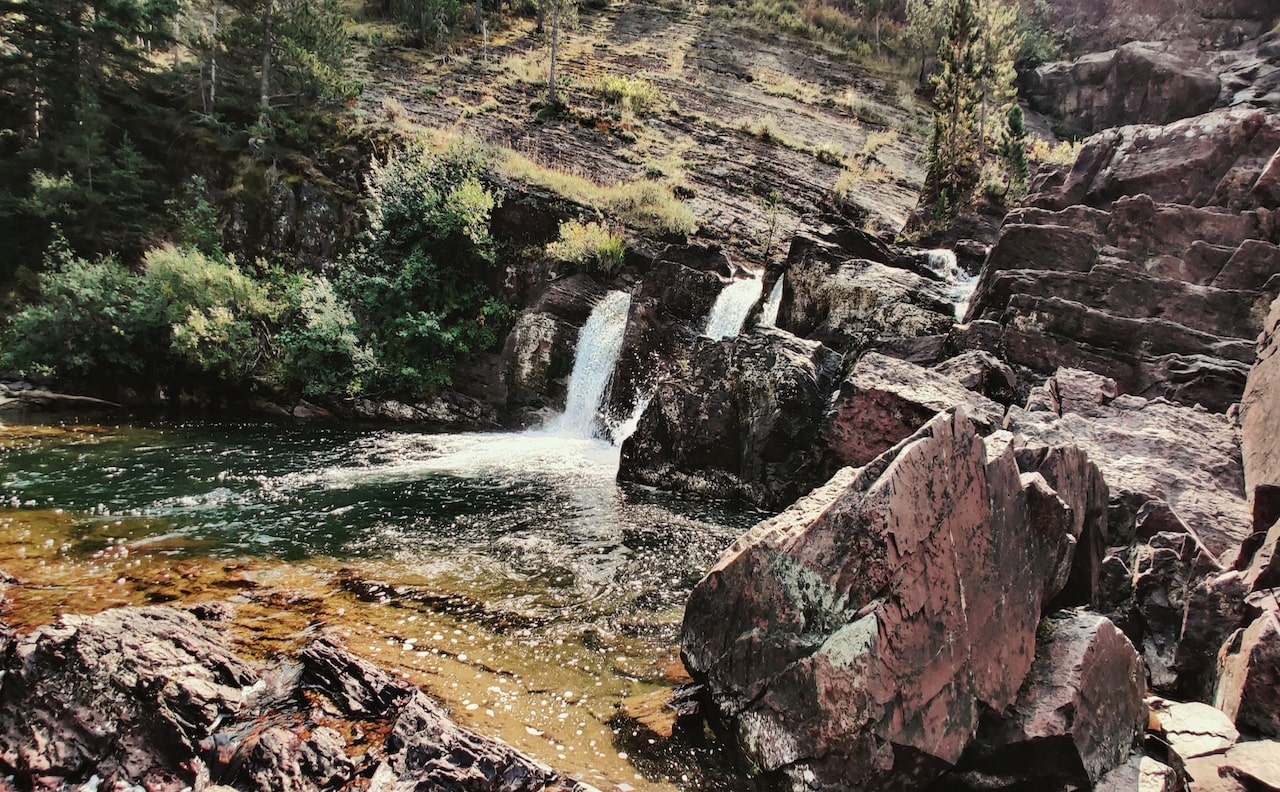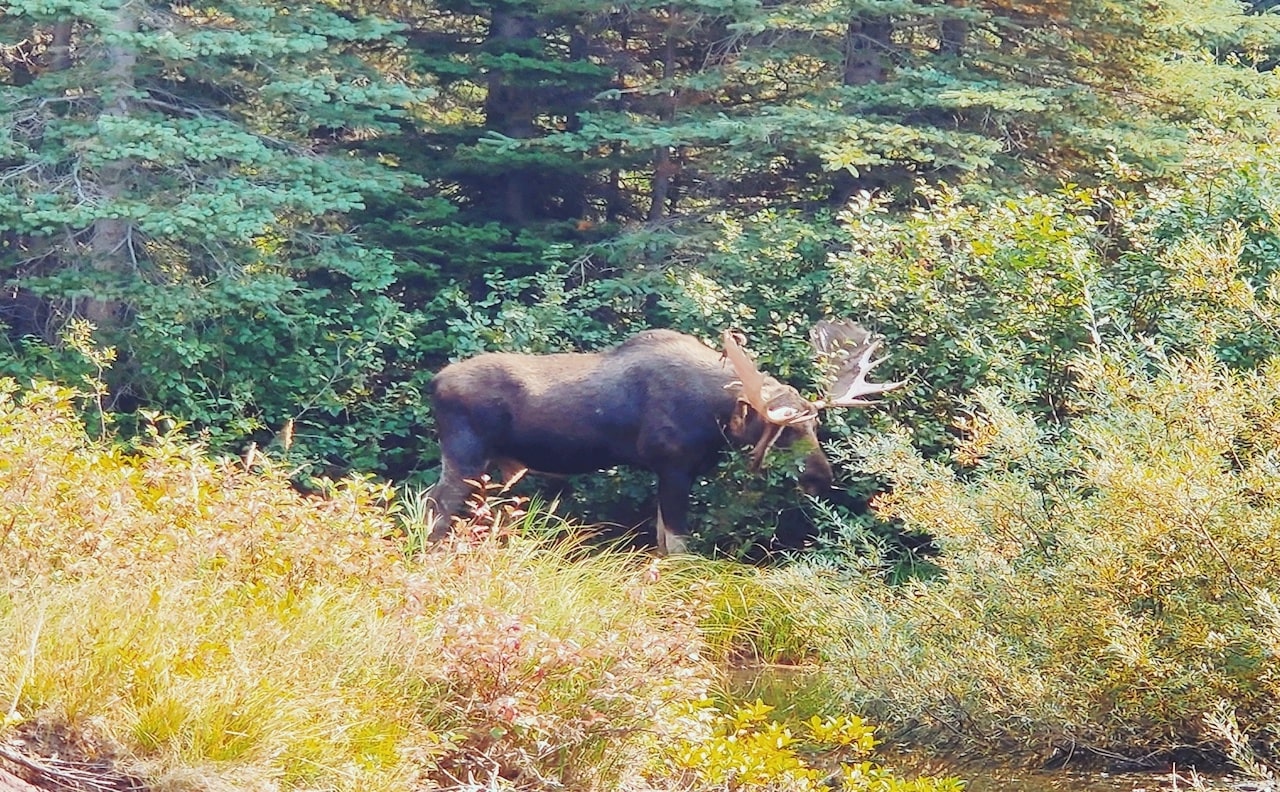 Day 6: Stairway to Heaven
Today we'll be doing the Grinnell Glacier Trail and I promise that you'll remember this one for a long time. This hike has a breathtaking alipine scenery, 4 lakes, wildflowers, waterfalls and a glacier. This is a well maintained 11.2 mile heavily trafficked out and back trail with elevation gain of 2,181 ft and is rated as difficult only for the virtue of it's length and is relatively safe with no cliffs or sketchy climbs. It's important that you start this hike early so you have plenty of time to take rest, eat and take photos. Make sure you carry an extra layer of clothing, water and food.
We started the hike at Grinnell Glacier Trailhead at approximately 7 am. You'll pass Swiftcurrent lake, Lake Josephine and Grinnell Lake on your left. This is one of those hikes where you'll see the views throughout your ascent and would be stopping a lot for pictures, each better than the last. The last 1/2 mile is quite strenous but keep going, it will be worth it and you'll eventually reach the Upper Grinnell Lake featuring Grinnell Glacier, the Garden Wall (part of the Continental Divide), as well as 9553-foot Mount Gould. You did it! Seeing a glacier up close is quite a feeling. We spent a lot of time taking pictures and occassionaly catching our breath. Studies suggests that all the glaciers in this park would cease to exist as early as this decade due to global warming, which is sad to say the least. After having our lunch (don't feed the chipmunks!), we decided to head back after an hour or so. The downhill hike back is pretty straightforward the same way you came in.
Say your goodbyes as we wrap up the East Glacier National Park. Enter through the east gate of the park and make a stop at Saint Mary Lake Overlook which is a clear blue lake until the eyes can see and surrounded by mountains on three sides. The Grinnell hike would drain you but feel free to make stops on the Going to the Sun Road on your way to Kalispell. Since we'll now be exploring the west GNP, it's wise to stay on the west side of the park. The two most popular options are Whitefish and Kalispell (this one's a bit closer to the park). Kalispell is a big town, so before checking in your Airbnb or hotel, treat yourself with your favourite dinner. You deserve it! Buffallo Wild Wings, Anyone?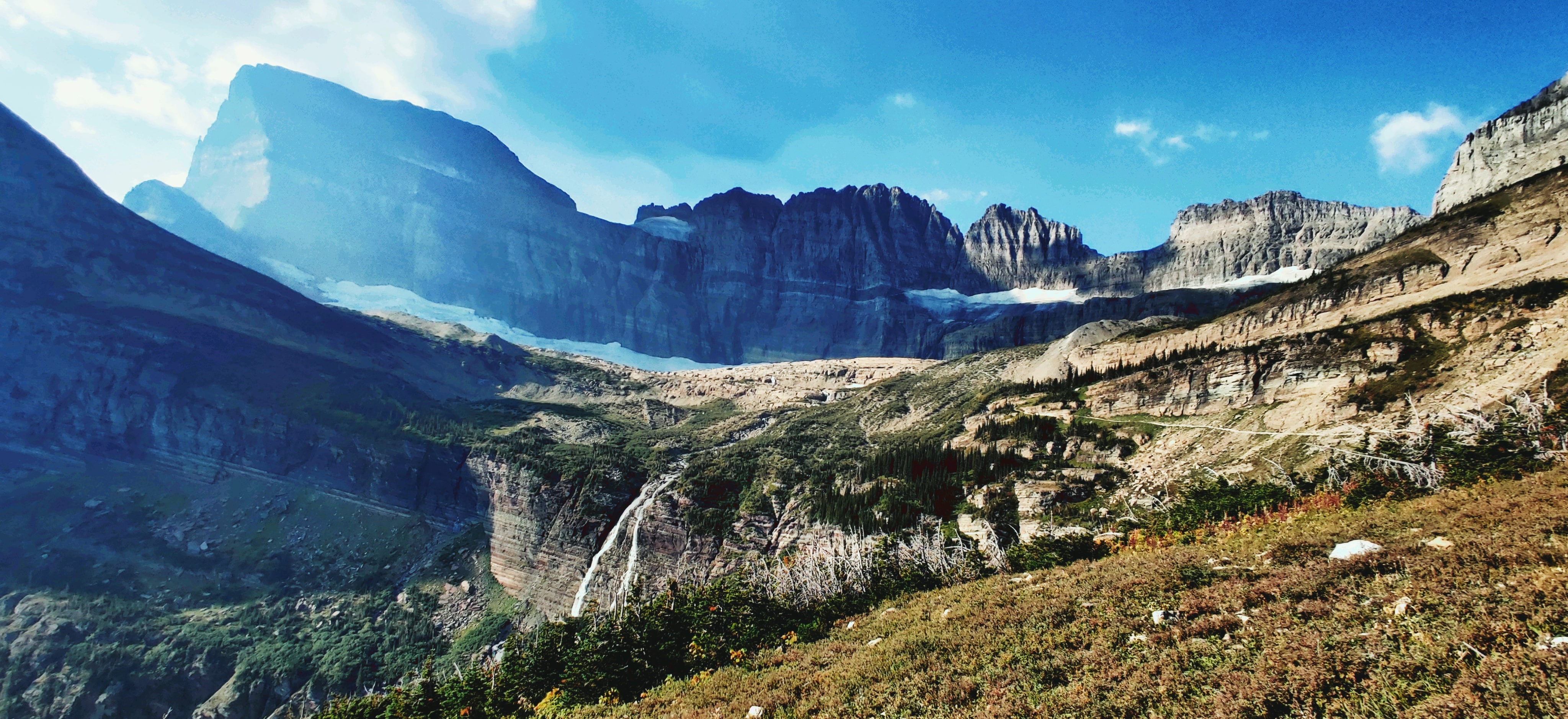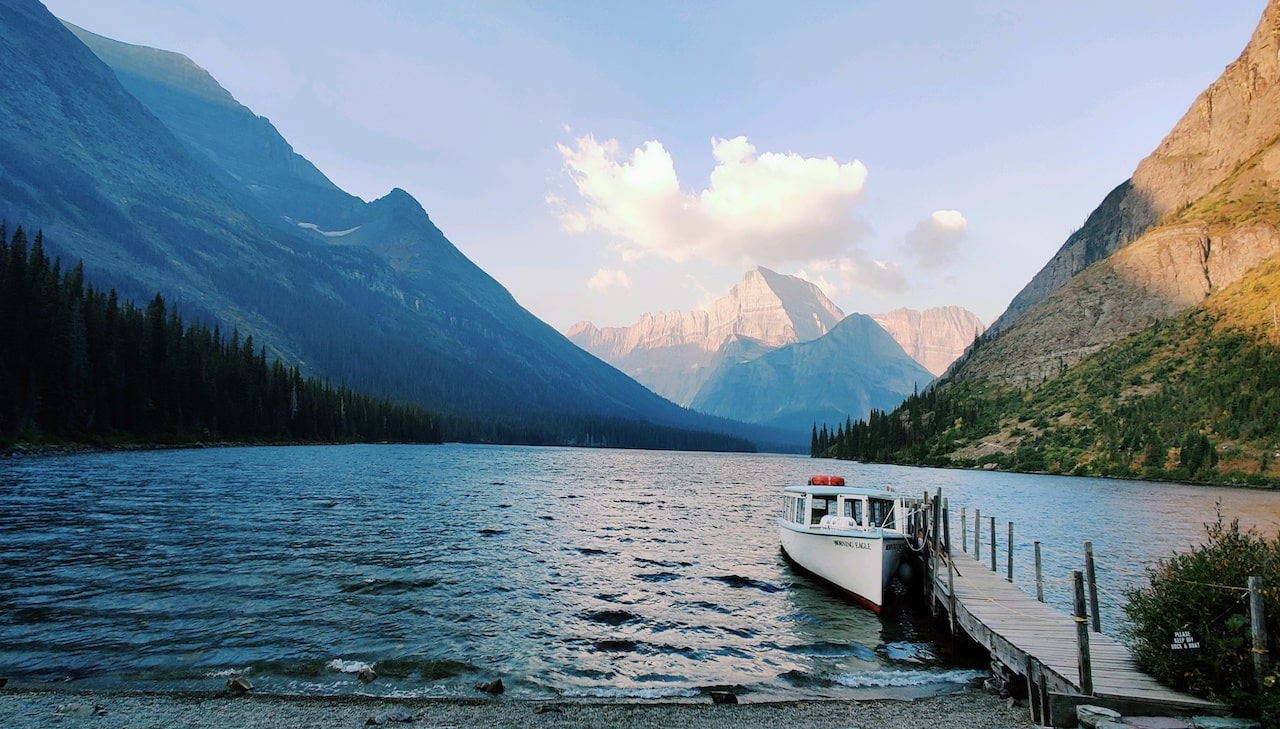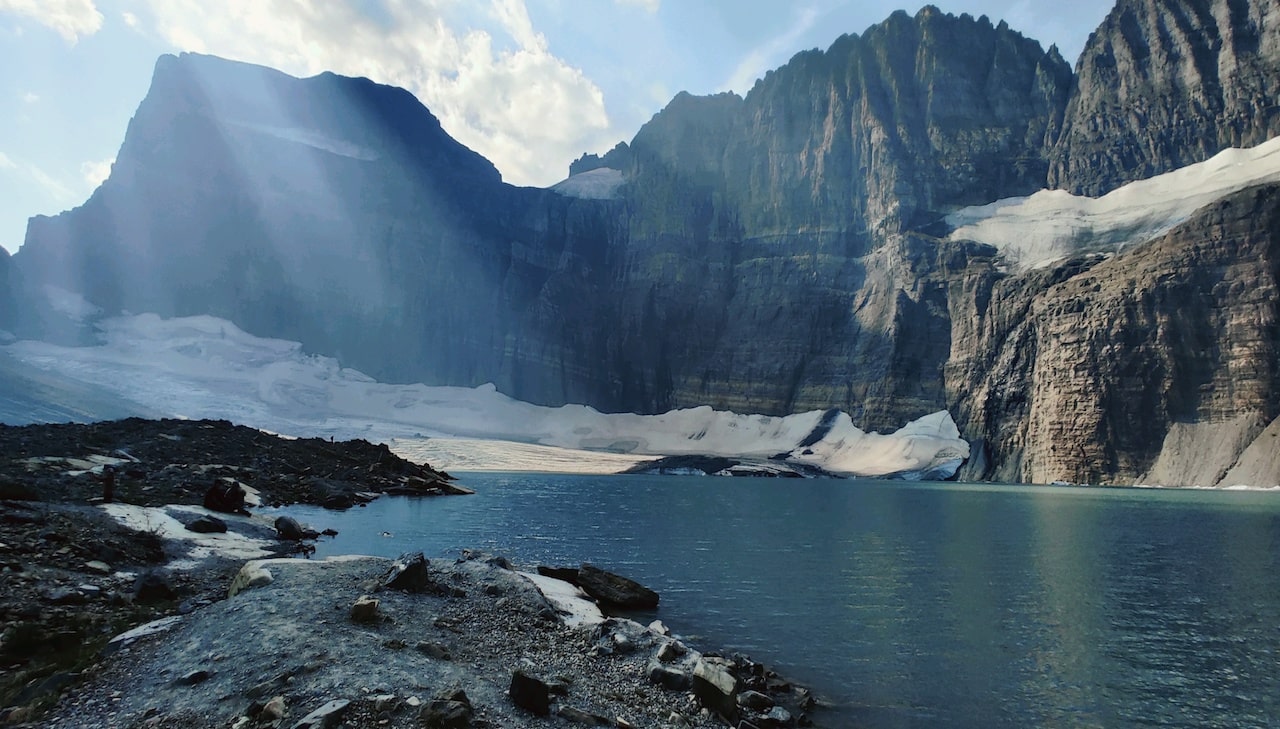 Day 7: A day by the Lakes
In the final phase of the trip, we'll explore the west GNP. Since we did a hard hike yesterday, we'll be taking it easy today, by easy I mean two medium hikes (yes plural). The first stop is the famous Avalanche Lake Trail, a 5.9 mile heavily trafficked out and back trail (A piece of cake as compared to yesterday). The good news is that this would also include the Trail of the Cedars which is the first half mile of Avalanche trail. This is a popular trail so finding a parking can be challenging. The trail features ancient cedar trees some reaching a height of 80 feet with lush green ferns and mosses growing along the forest floor. After about half a mile you will reach a footbridge over Avalanche Gorge.
After the Trail of the Cedars section, the trail gradually climbs along Avalanche Creek, featuring spectacular scenery and glimpses of birds and wildlife that inhabit the area (not that I saw any wildlife). After walking for about 2 miles you will reach the Avalanche Lake. This enchanting glaciel lake sits at the base of Bearhat Mountain and has a beach with plenty of benches to relax and take photos. This lake is one of the most photogenic ones in the national park with clear reflection of the mountain on the lake. A good spot to take photos is on the center of the beach with a stone you can stand on; there's only one so it's hard to miss.
Our next stop was Hidden Lake Trail which starts right at the Logan Pass Visitor Center. Before venturing out, do spend some time here, get your passes stamped, talk to park rangers for trail suggestions or checkout the giftshop. Hidden Lake Trail is a 5.3 mile heavily trafficked out and back trail and is rated as moderate. The trail traverses through alpine meadows, also known as the Hanging Gardens. Tip: A lot of people including us didn't go all the way to the lake and ended our hike at Hidden Lake Overlook which is 1.35 miles one way as this is where you'll find the best views of the lake.
On our way back to Kalispell, we made three more stops at the Weeping wall, which is a waterfall right on the road, the Loop (switchback), and the tunnel windows all of them on going to the sun road.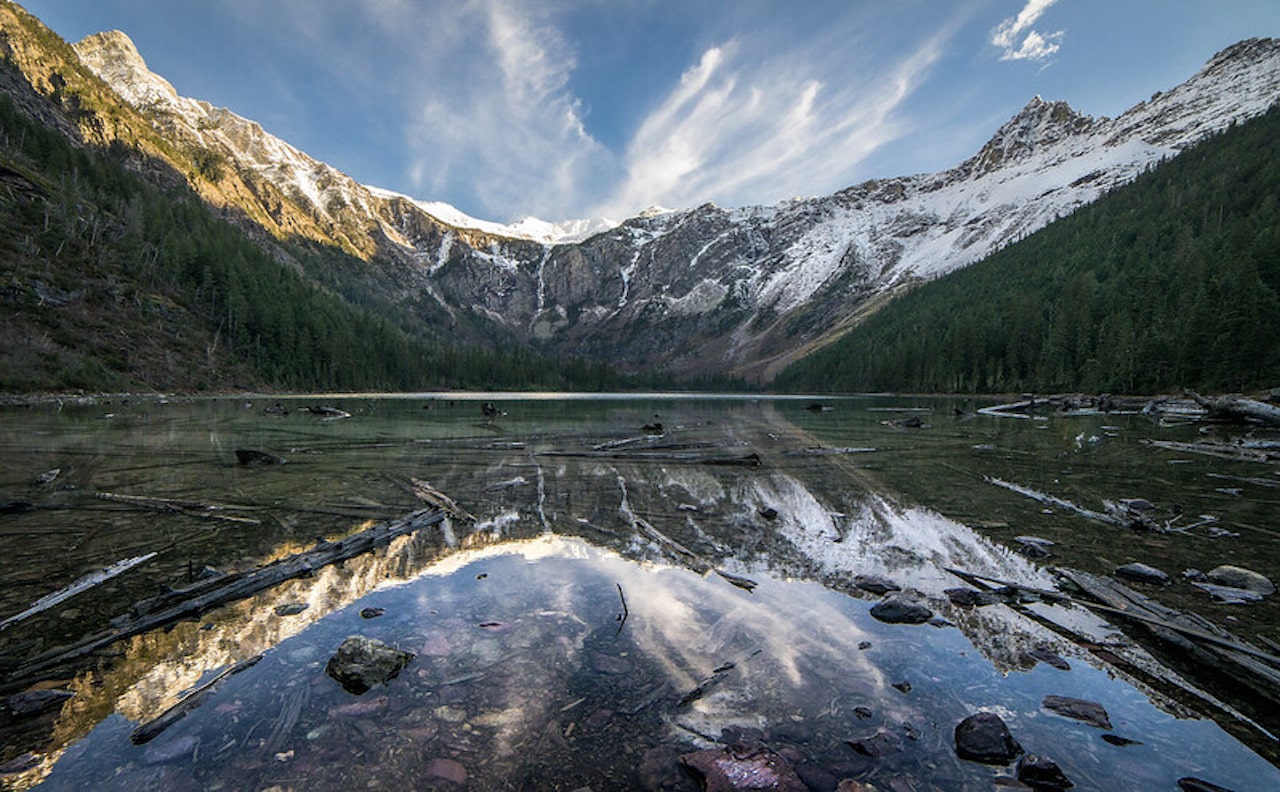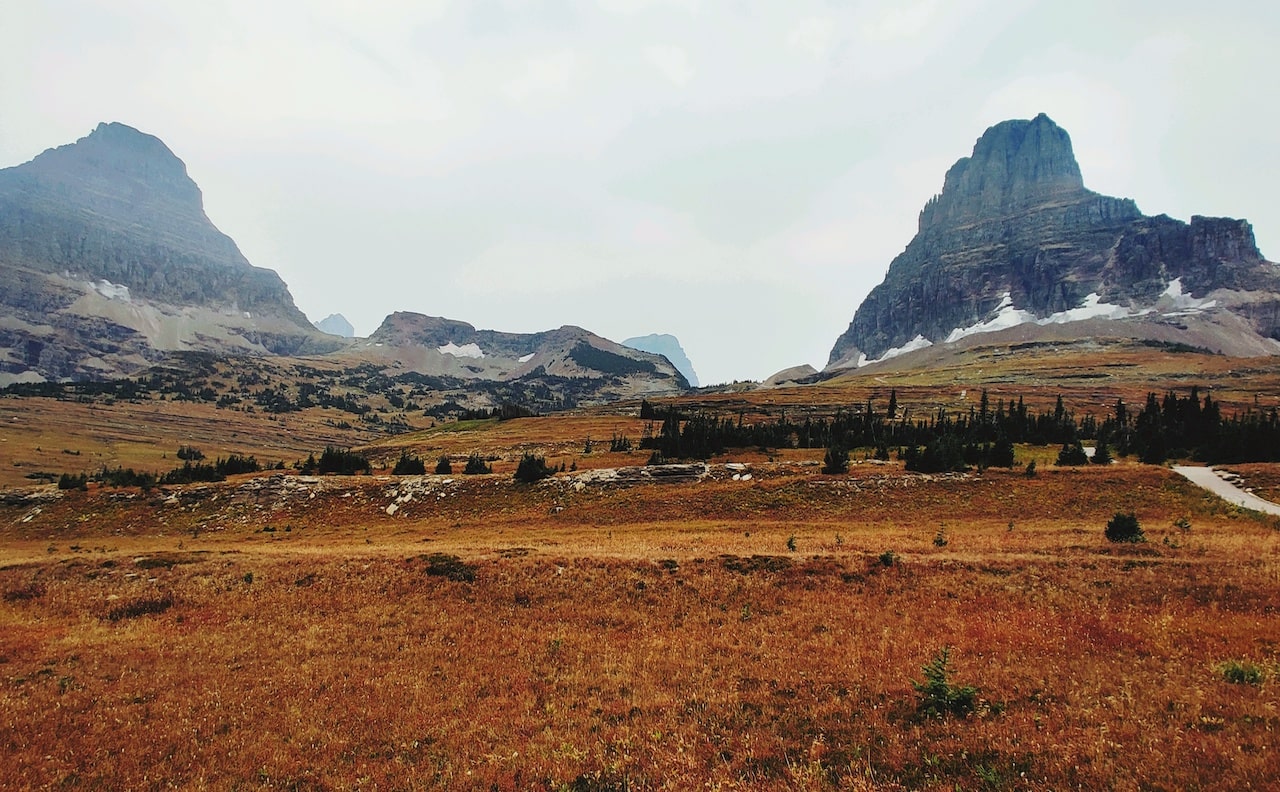 Day 8: Rivendell
Today marks the last day of our trip and in a way you can say that we saved the best for last. We started our day early and the first thing on our agenda is the Highline trail which starts at the Logan Pass and ends at the Loop. Tip: Logan pass has a large parking space but it still usually gets full by 8 in the morning, so arrive early. This is arguably the most popular, breathtaking (in a good way) and a must do hike in the park and it definitely earns that title. You can either hike the whole 11.6 mile to the Loop and take a free shuttle (might require reservation) back to the Logan pass or just turn around whenever you feel like it. The elevation gain is only 800 feet, so again, the difficulty is only in terms of it's length. But boy does this one got views, think Rivendell from Lord of the Rings. You'll have the best seats to view the valley in all it's glory, with a chance to see deers, mountain goats and may be even bears. Towards the end of the trail, you can step it up a notch and take a detour to the Grinnell Glacier Overlook (we didn't do this part) to get one more glimpse of the Grinnel Glacier which adds another 1.6 miles roundtrip with 900 feet elevation gain.
A trip to Glacier National park is incomplete without seeing Lake McDonald which I believe you would have passed multiple times in the last 4 days. The best place to see it would be the historic Lake McDonald Lodge. Go down to the stone beach next to the lodge and behold the placid and vast lake which is truly mesmerizing to say the least. This is a great spot to click some pictures. There's also a restuarant here if you are starving after the hike. We spent some time eating our lunch on a bench at the lake. Realizing that we'll soon be saying our goodbyes to this park, we took our own sweet time. You can also take a boat tour here if you want to explore the lake some more.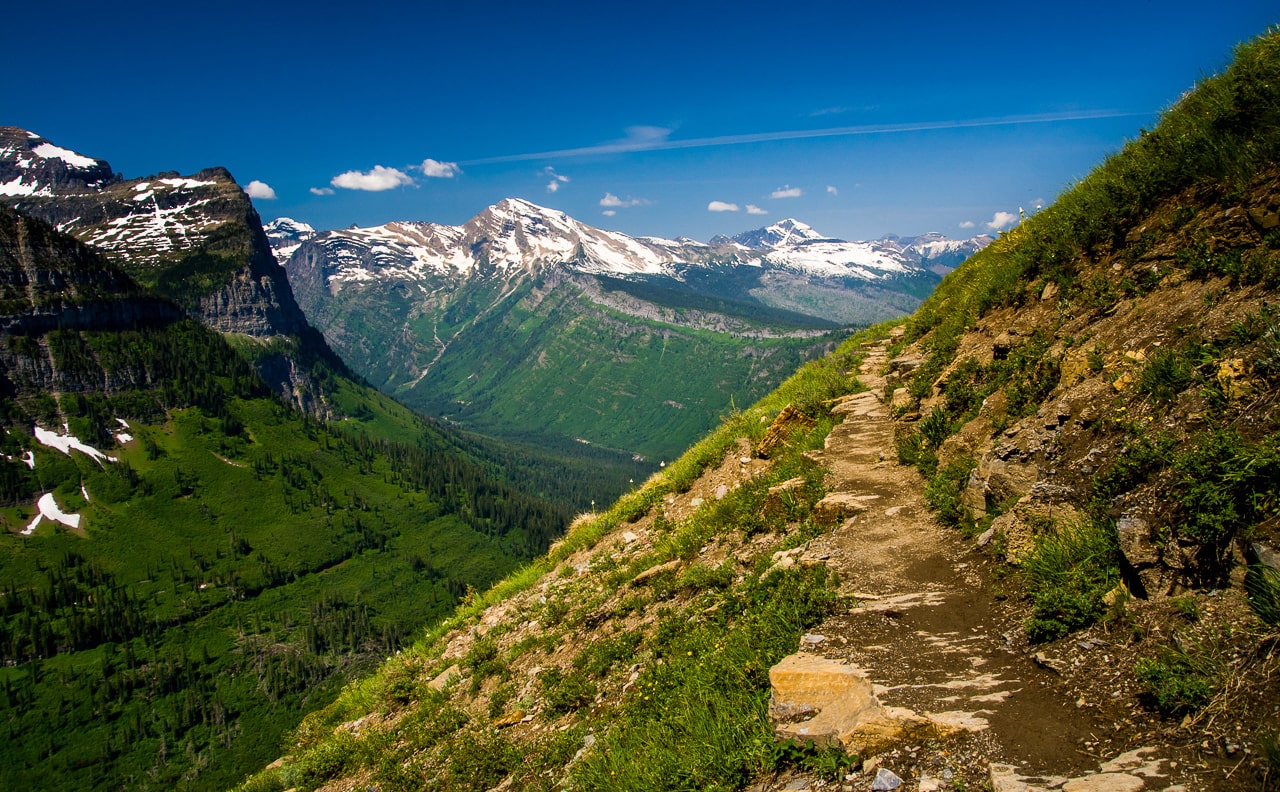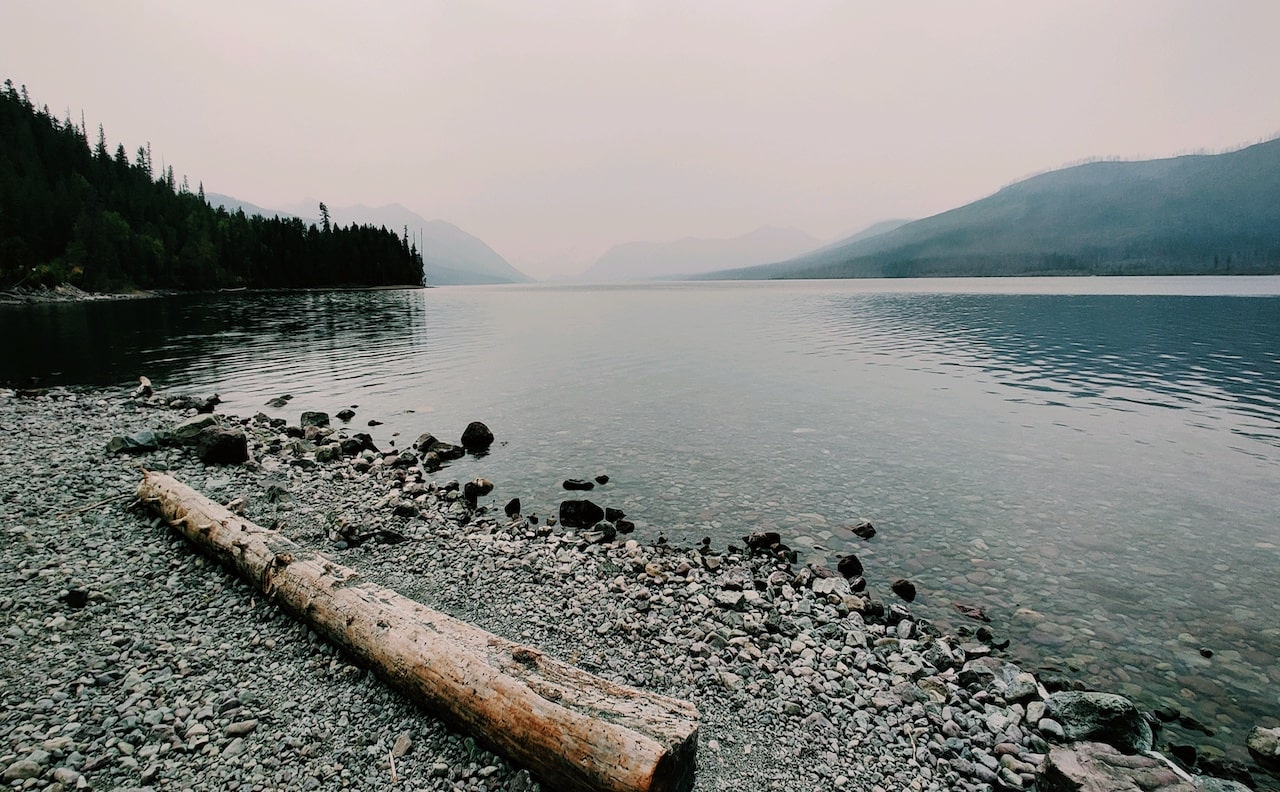 With this we ended our Trip to the Crown of the Continent, the Glacier National Park. This park is so fascinating that a lot of folks we met here were on their 2nd or 3rd trip. Hopefully, we'll be able to visit again as well, and soon. It was time to take a good night's sleep and get ready for a 9 hour drive back to Seattle the next morning.
Summary
There are tons of different ways you can explore Northern Idaho and Montana with a lot of great resources available online to help you out. Although this blog covers most of the highly rated and must see attractions, it goes without saying that this blog isn't exhaustive. There can be many more great places to see and experience that might be more appealling to you. It also aims to decrease your efforts as you plan your roadtrip and to help you find the right balance between hiking, exploring new places, driving, and relaxing. Hopefully, this article can be a good starting point for people who are just starting to explore the country, are not seasoned hikers, photographers or campers etc. but are only bound by our common love for travel. You can and should, modify this itinerary to suit your interests, availability, budget, skill level, etc. but above all, don't forget to have fun 😊. Till next time!